So a VERY Merry Christmas to you all, and here is wishing you all a very Happy, Healthy and Prosperous 2012. It's all over for us now, we had some great parties and gatherings, Skyping to loved ones at home and well just having fantastic fun.
Apologies to Fleur for missing your party yesterday, the other party went on very late and we had to get home for the kids and to Skype to UK. So sorry, but I hear it went swimmingly well.
Thanks to you all across the world that sent us gifts, they were/are all so very much appreciated as you'll see on the faces in the following photos. So what did we do?
Christmas Eve Party
Our very good friends Kenneth and Faith invited us to their Christmas Eve party. Live Philipinno band, amazing food both Western and Asia, Karaoke (not for the faint hearted) and amazing company. Kenneth and Faith thanks for making this year a special one, such fun – yes event the Absinth drinking – WOW!
Yes my chum Kenneth is the perfect host, always ensuring no glasses are empty, of cans empty – plus sharing the occasional shot of whiskey and Absinth. Ha Ha – very rosy cheeks towards the end, but Dutch courage enough to do this! Yes I sang, in fact I sang about 3 times as Amy wanted me performing Black Eyed Peas songs for her. Thanks Amy.
Oh and of course thanks Mary for taking at 4 minute and 5 second video of yours truly. Dear me! The song isn't that long, how does it go on for more than 4 minutes? He He!
We literally became part of the family with Kenneth and Faiths, Mums, Dads, cousins, kids, sisters etc. Amy got baby sat by Kenneth's eldest son and daughter, playing on iPads and iPhones. Thanks so much everyone for making it a very special night for us all, including Ollie who we didn't see all night as he was up in Brendan's room with the boys playing X-Box.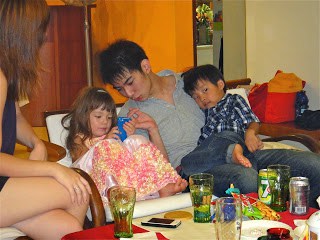 Amazing little Amy kept awake until 2am, in fact beating Faith re stamina ha ha! Faith a 3 year old beat you, he he!
I would also like to add that Kenneth and Faith have a beautiful house down at Changi in Singapore. A kitchen "to DIE for", and a beautiful downstairs area that is designed for entertaining, just a beautiful place guys. Thank you.
Here's a nice snap of Ken and me sat poolside. We sat there chatting and eating and drinking, watching Kenneth command the Karaoke, until I'd had enough spirits thrown in me to enable my singing to get it's thing on. I think about 30 minutes after this photo was taken!
Towards the end of the evening Amy found out that she could steal a microphone and go upstairs with it. So this is me mid song singing her Black Eyed Peas and her trying to steal the microphone ha ha!
Then Christmas Day, this will be broken in to three sections;
Basically we had three Christmas Days. First up chez Kennett, followed by off to Big Geena's, we were then supposed to go to Fleur's but big Geena's party ran on late, so we needed to get home for the kids, so taxi'd home with Gordon and Thes and had a bite to eat too.
Home
Here they are. We all got up a little later than expected because of the 0200am finish at Kenneth's, so for once we had a little lie in on Christmas Day.
Then we had visitors in form of Gordon, Thes and a new friend who has moved to Singapore 3 months ago for BT – Dave Brown. Yes Brownie if you read this, your name dopple ganger is here in Singapore now.
Thanks to Uncle Darren for buying Amy a make up kit – hmmmm! I have spent two days now covered in nail polish, and I keep forgetting and popping to shops with it on. Thanks Bro, owe you for that one he he!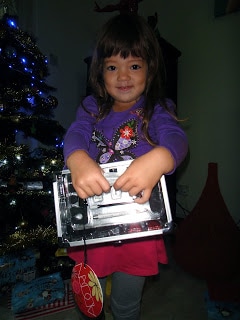 Our visitors arrived, and then more fun began, including first local beverage on the balcony at about 11am, phew! A long day commenced.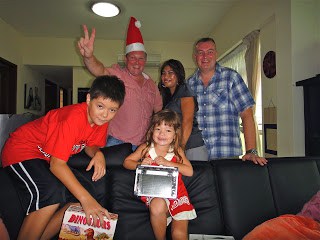 A quick change for the kids to get ready in their new Christmas costumes, and we're off to Christmas Day, Phase II. This dress chosen by Jim Boy and Jhea, Mary's kids, very Christmassy and boy does it suit her doesn't it.
Big Geena's
Firstly a major thank you to Geena's employers for allowing us to party at their place. A lovely condo off Orchard Road near the Shangri La Hotel. What fun we had with fashion shows, parlour games and food – oh my gosh food.
It was delicious, the pictures don't do it justice. "Phew", says Amy.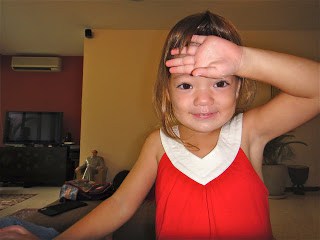 The pork and the chicken, aye karumba. Delicious thank girls.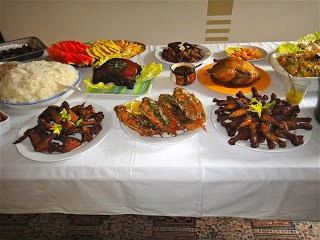 Me and the kids were honored and each got a gift from the girls. Thanks so much to you all it was lovely, in fact I have been wearing my new shirt today, fits perfectly!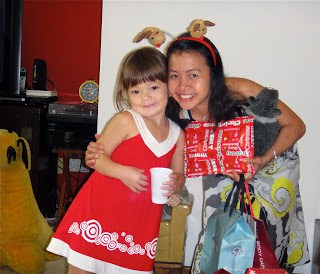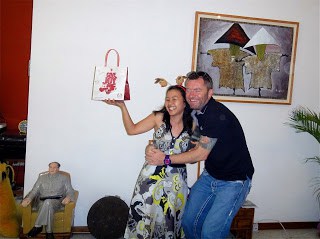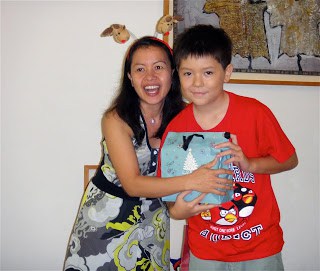 Always find them in the kitchen at parties, again very true here. Nice group shot.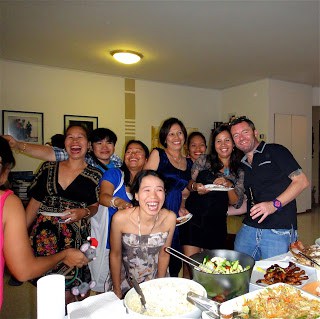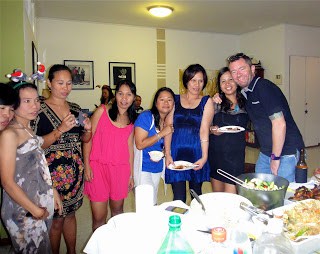 Lot's of snaps of the kids just having fun during the day. They loved it.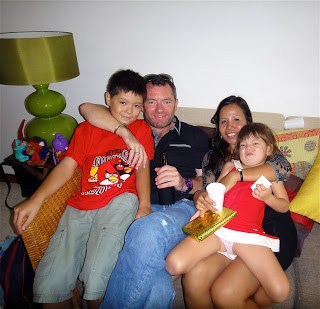 Then the games commenced which started with present hand outs, with some twist introduced in. Everyone had to bring along a present and it all goes in the middle. Then when your number gets called out you collect a prize, OR you can go to anyone else and take what they have chosen. And so on. So this is a little clip of Mary finally claiming a really nice dress by stealing it back of Geena, this was about the 5th time this dress had exchanged winners so it was extremely funny as you'll see.
After three times of changing it's over, so we did eventually keep the dress. But Mary had taken to putting it down my top, something Amy thought very funny.
The boys were then the judges of a "dress your model", which had the girls split in to two teams.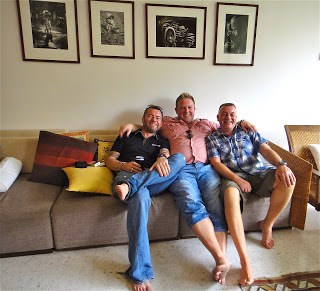 Then they had to dress a model in three themes, casual, sporty and evening gown. I have to say this was hysterical, with the girls really having a giggle. I was head judge and had to collate the scores afterwards, with % weightings for things like audience participation, looks, etc. They missed one for just being completely crazy as the girls were. Not too many pictures unfortunately as I was judging and Mary was in the competition.
As it turned out Team A (Mary's) won all three categories and Mary her self won the evening gown section. It was such a laugh, all deserved to win something, and I applaud and thank them for the giggles.
Here is the winning team.
Someone had to come in second. A real shame as they all did so well, and all look gorgeous.
But all friends of course in the end. Lovely group shots.
And here is the three winning individuals with the organiser, Maricel, and key sponsor Amy Kennett.
Then it was boys up again and musical statues, or dance stop as they girls called it. I think Gordon ended up winning this one. Well done Sir!
Here come the CRAZY Nereh. She basically placed some fruit bowls with some cherries or something on top to look like false boobs. I think she liked having them for a while bless her. Very funny Nereh, this profile shot is the best.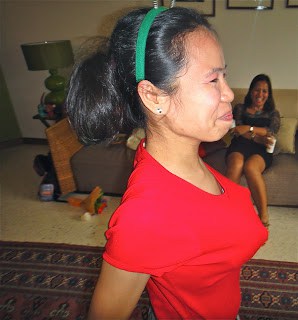 Then the girls got back out for another dancing competition. Basically you dance with a partner and when the music stops you jump on to a sheet of newspaper. Sounds easy, but after every music stop, you then have to fold the paper in half, so get's very very difficult. Here is the winning team of Nereh and Gin Gin.
A few more group shots from throughout the day. Thanks for making it very special ladies.
Gordon's
Then to Gordon's after Geena's for some late night food and drinks. One dish amazed me. Cauliflower cheese. Now I hate cauliflower, but gave this a go and my goodness what a delicious dish this was. So got the rough ingredients from Mr Gordon and actually made this today for dinner. It is GORGEOUS.