MBS Staycation Review is all about Wifey's Birthday celebrations in December 2021. Located across the street from Marina Bay, this 5* upscale hotel is about a mile from Gardens by the Bay and 18 miles from Singapore Changi Airport.
Wi-Fi, flat-screen TVs, and minibars are standard in the well-appointed rooms, which also have sitting spaces and floor-to-ceiling windows. Rooms with city or sea views can be upgraded, including balconies for 'garden facing' rooms. With living spaces, kitchenettes, saunas, pianos, and butler service, suites are available. Room service is available around the clock.
As well as food and drink establishments, there are also meeting rooms, a casino, and a museum to enjoy. There is also a rooftop infinity pool, a spa, a gym, and an observation deck.
The food is incredible at the multitude of restaurants and the best, in my humble opinion, are those at the top with incredible views to boot cum night or day. We were also very lucky that they upgraded us to a garden view room as it was Wifey's birthday. Thanks so much Marina Bay Sands.
Read on in the MBS Staycation Review and you'll see what I mean.  
MBS Singapore Rooms & Views
As I mentioned, we were very fortunate that Marina Bays Sands upgraded the room for Wifey's birthday. She here we are on the balcony of our Garden View Room. Come on that is some WOW right there for a staycation. Wait until you see it at night.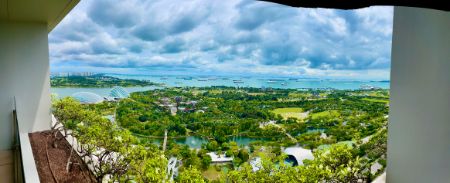 Panoramic views from the room. It truly is stunning from up here. What a start to the staycation.
Massive bathroom (Wifey working out what she can slip in her suitcase) and HUGE King-Sized bed. Loving this so far. She is such a lucky Birthday girl (and me so lucky too as I have to accompany her haha).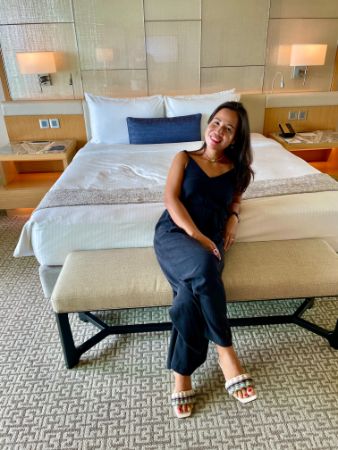 Introducing my MBS Staycation Review model, Wifey, showing off the incredible room before we go upstairs for some lunch on the top of the world. So beautiful.
Have a look at our little Vlog of the amazing experience here
MBS Staycation Review of the Infinity Pool Area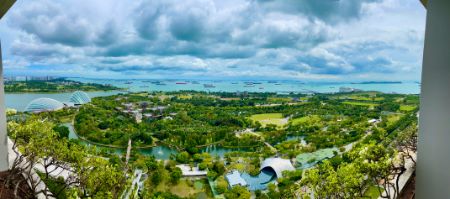 Now we are up the top where the infinity pool is, Sky Park, Ce La Vi, Spargo and Lavo. 
Seriously, if you do a Marina Bay Sands Staycation you really do not need to leave the building. There is so much to do, see, eat and drink. It is an integrated resort on steroids.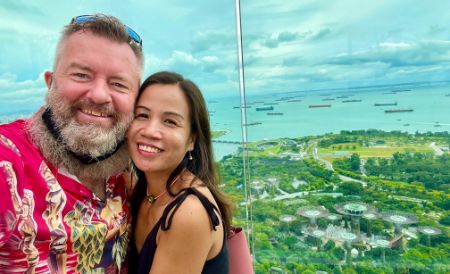 I got so many Brownie points for this birthday present.
Just check out my beautiful smiley Wifey. 
Happy Wife / Happy Life…
Thank you wallet and thank you Marina Bay Sands and crew, you really did make this a very special Birthday.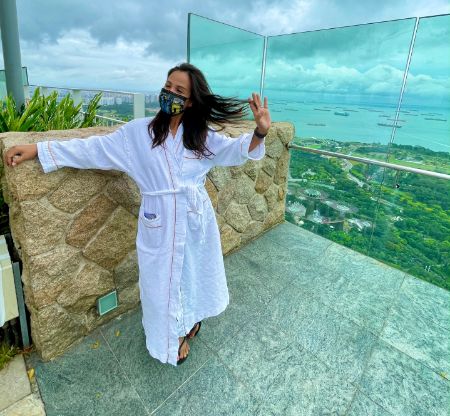 Wifey doing her modelling career the world of good up the top of Marina Bays Sands.
Yes, the infinity pool is open, but you do have to book a slot and those slots fill up FAST. I suggest you book that in as quickly as you can upon check-in.
So here we are all bath-robed up awaiting the previous lot to clear out, cleaning and then our slot being opened.
Lots more photos of course to come in MBS Staycation Review…
Model shots and even a jacuzzi, that was so hot you could have boiled potatoes in it.
I kid you not…
Marina Bay Sands Infinity Pool
Finally, after 15 years of living here, we get to go to the pool. Even my brother from the UK has been here before us. No, you cannot use this pool unless you are staying at the hotel, so there is one pre-requisite for you. And if you look at those photos you'll see it was a moody day and that meant not a lot of sunshine to warm the pool and it was FREEZING!!!
They don't heat the water as part of a green/sustainability program. Basically, the cold water is used to cool the hotel down saving on the need for excessive aircon. OK, I like that, but still maybe not enough for me to like having my testicles up in my throat. So cold I think I spotted a Cod swim past me.
But, for that view, it is well worth it. It is absolutely unique. 3 separate pools and even a kids pool. Then those jacuzzis. Yeah, whatever I hear you cry. Hey, that is all on the FIFTY SEVENTH FLOOR… It is an incredible piece of engineering.
MBS Staycation Review of the Restaurants and Bars
I'll be doing separate blog restaurant reviews for the food as it seriously does warrant a call out as it was so good. We seemed to gravitate to Spago and had lunch/drinks & dinner there on the 1st day and breakfast on the second day.
Spago Singapore is sort of split into two, one more fine dining than the other more casual bistro neighbour.
But we did have. lovely lunch and superb dinner this day up the top of Marina Bay Sands. So this does get a mention in our little blog review here.
From Chef Wolfgang Puck's Beverly Hills restaurant, Spago MBS is the first foreign spinoff of Spago, which provides an inventive and fresh menu of California cuisine with global accents. The restaurant is located at the top of Marina Bay Sands' Sands SkyPark, which overlooks the iconic Infinity Pool and the city's cityscape. It was legendary – so much so we had lunch and dinner here today as our sole choice of Marina Bay Sand restaurant for this staycation.
We also went to Lavo MBS after dinner for some late-night drinks and see the twinkling city lights. That was breathtaking it has to be said. This is one of the top restaurants with a view Singapore and absolutely one of the best roof top bars Singapore.
Sadly we missed Sunset drinks @ Lavo Singapore due to the time slot given to us for the BBS infinity pool. Something to be aware of when you book your staycation. We'll be back for a romantic Valentine's dinner in Feb'22 Lavo, and we'll see you then.
We have dined before outside the hotel complex and in the Marina Bay Sands Shoppes, or The Shoppes if you're following the Way-finder. We have eaten at Bread Street Kitchen for best Beef Wellington Singapore, you'll see three reviews of CeLaVi menu from our visits to Sky High Hawker and other amazing dining experiences. I did try to book Cut by Wolfgang Puck for this Staycation but had no luck on the availability.
If you read on you'll see our  blogs to give you much more insight and depth to the variety we have experienced of Marina Bay Sand food. You could almost use that list as you MBS Food Directory perhaps?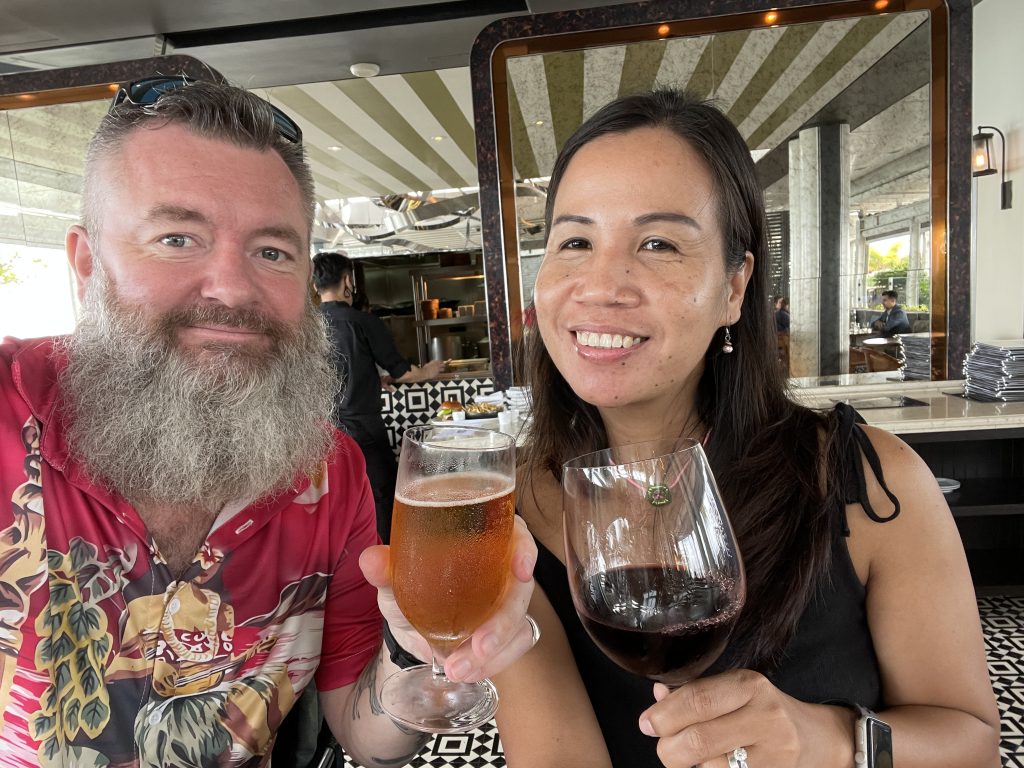 Delicious Birthday dinner at Spago, seriously so very good and even included a little Birthday dessert.
Then onto the incredibly twinkly lights of the Singapore city skyline for the last drink before bedtime at Lavos. Be seeing you again soon.
And the day was finished with a wobbly walk back to the room for a lovely sleep in that awesome bed, with one final snap of Gardens by the Bay from the balcony.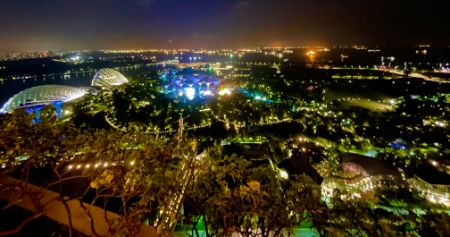 MBS Staycation Review Conclusions
Just class!!!
It's up there on the $$$ frontage, but worth every single cent from my perspective. Wifey felt like she was a Queen for a day and that's what mattered to me because this became a birthday present for her to remember for all time. She truly was so very happy.
We got to enjoy MBS Infinity Pool, Spago Singapore and Lavo MBS probably two of the best rooftop bars and rooftops restaurants in Singapore. We were upgraded to an incredible garden-view bedroom with a balcony. 
We truly did feel like VIP's for a day and night and I loved that for my Wifey.
Do it. Marina Bay Sands Staycation. It is up there with the absolute best things to do in Singapore. Special treat time.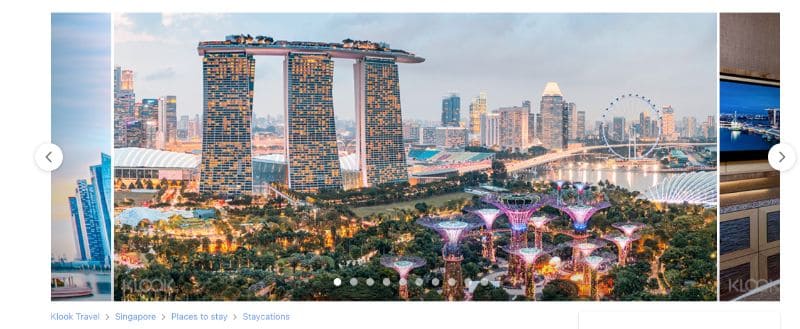 Frequently Asked Questions & Our Answers
Marina Bay Sands Staycation bookings/reservations/contacts
Give them a call @ 6688 8868 
Of course, you can book through the usual suspects such as Booking.com, Agoda etc. 
https://www.klook.com/en-SG/hotels/detail/575689-marina-bay-sands-singapore-staycation-approved
Marina Bay Sands Staycation Location
Want to know about other Marina Bay Sands Restaurants
Read some of our other reviews of our tips to MBS Restaurants below;
If you enjoyed this Marina Bay Sands Staycation review please subscribe & connect on Socials
Connect with me on other Socials:
You'll see much more family fun, many many other recipes on the channel and heaps of restaurant and hawker reviews too.
You can also read this Marina Bay Sands Staycation review on these Social Posts