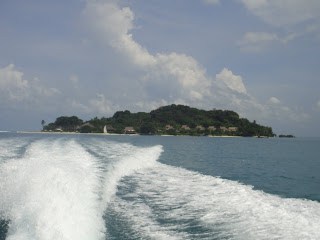 So here go here is some wonderful video and photo footage of our trip to the amazing island of Nikoi in Indonesia. You basically take a ferry from Singapore to Bintan, then drive for an hours across Bintan to a small port and join a speedboat/ferry thing for 30 minutes or so and hey presto Nikoi. It's a privately owned "eco" island = check it out at http://www.nikoi.com . Really good friends of ours suggested the idea months and months ago, and a big gang of us all signed up to go. On the island is a mere 15 eco "cabins". I can't think what else to call them they are like 6 star tree houses but on the beach facing topaz sea. No air con, TV, mini bar etc. everything centres at the central bar where reggae is played and cold drinks are a plentiful.
The next thing that made it wonderful was the group of friends that came with us, kids and all. We had such a wonderful time with them all, at all ages. The kids played and played, we played and played (as there were baby-sitters, and a nightly kids film shown so the adults could eat in peace) and we relaxed and soaked up this wonderful wonderful island, it's lovely people and staff, delicious food and stunning views and scenery. WOW, Nikoi, you are amazing!!!!
Thanks to all our friends that made this a truly unforgettable experience for all the ages in the Kennett family. We MUST do that again!!!
Completely out of order now as the first picture is the lst as clever me forgot to put battery in the camera for trip out. So this is the disappearing view of Nikoi not the arrival, but check it out. So so beautiful. This is literally it, the rest of the island is still jungle. Beautiful.
Some comments now on the photos and as always me being non-technical I have to add text here and number the photo;'
Photo 1;
Is Amy playing on the floor of the restaurant, yep you heard me. You sat at dinner barefoot, scrunching toes in white sand, munching on yummy food.
Photo 2;
Brother and sister about to eat their dinner at 6pm, followed by huge bean bags and kids films at 19:30.
Photo 3;
Dad I love Ballet, Look I'll even do it in my swimming suit – Ha Ha!!
Photo 4;
A great mate of mine, Uncle Keith, with his partner Adeline's little one. This is SO cute, check out the pouty face. Gorgeous.
Photo 5;
Amy in a daze, see the film screen behind her that the kids would watch films on.
Photo 6;
It's BUBBLES. Amy and Ollie's new found friend. Always now if John and Z are going to meet us at something – BOTH kids will shout "is Bubbles going to be there?"
Photo 7;
"Er Tracy love I think we're lost", "clearly as you're the only one paddling darling!"
Photo 8;
Scuba son and Scuba Dad, which ones which???
Photo 9, 10, 11 & 12;
Ollie and I went on a kayak adventure around the island, and here are the photos that he took from the front of the boat, apart from the one of he of course! Not bad photos at all Mr Kennett.
Photo 13;
Z and the kids, so so cute. They played so well together we were all very proud of them, all sets of parents. Well done kids you were BRILLIANT!
Photo 14;
Rambo?
Photo 15 & 16;
Again the kids just getting on with it in the sand at the club house. They really were all so happy with each other which I think you sure can see in their faces.
Photo 17;
Can you believe it the room from the main bedroom of the cabin, breath-taking!
Photo 18;
No words needed. Ged what could you do with this photo? CUTE!
Photo 19;
So this is Dad of Bubbles, our very good friend John. Is she thinking "If I grab Daddy's throat it makes him sleep, look!" Nice photo John, love it mate!
Photo 20;
The dining room, yep ONE massive bit of timber and all of us sat together. We literally took over a whole half the island and this was team Eaton's private dining facility. Even afterwards and over to the bar for drinks, not another sole apart from our party and Bob Marley.
Photo 21;
Woo Hoo sexy, Ollie showing off HIS room. Yep this was all his. When booking and there being me the kids and Mary I though best get a two bed villa thing. Well that actually comes with 7 beds ha ha! HUGE.
Photo 22-26;
Views of the villa, views from the villa, views standing on the beach outside the villa – AMAZING is all I can keep saying about this place!
Video clip;
Check this footage out (my new camera – amazing!). Ollie and I decided to go scuba and under the pier ran into this shoal of what I think might be baby mackerel? 1,000′ and 1,000's of them at touching distance!
Photo 27;
To then end, just more and more lazy days shots on the beach, alseep (bless you bubbles – so cute), walking round the island, iPod rock, and the journey there video and final pitcure.