A Bohol Christmas 2016
We have not been for many years now. See a couple of the previous trips here on the blog site; blog1, blog2. So after 4 year s of not having been for a long period we decided it was time to go. Christmas, Mary's Mum's birthday, get the kids together, relax, see beautiful sites and eat some delicious food. This is the Kennett travelogue for A Bohol Christmas 2016.
A whole heap of photos and the occasional video clip to come, as we meander through Bohol, Philippines. The capital city of Bohol is Tagbilaran, and my Mary originates from Mabini Province. Bohol is a 1st provincial income class island province of the Philippines it seems. It sits in what is called the Central Visayas Region. Bohol is the main island and 75 others around it, and it is large at 4,821 sq Km, and having a coastline of 261Km – WOW!
We fly to Cebu to the West at a very early 0600am departure, and fast-ferry it in to Tagbilaran. Apparently in a year or so there will be a new airport opened on Panglau, one of those islands. Its a very popular island with Japanese and Koreans for holidaying, and diving, it continually being voted within the top 10 diving locations in the World. It is also of great interest to Japanese and Korean's from corporate investment too. The Kew Hotel we stayed at is Japanese for example.
Sadly though in Oct'13 it got devastated by a 7.2 earthquake, taking 156 people's lives and injuring many many more. A lot of historical architecture got decimated too that day, but the Boholanos have bounced back and are active in the re-builds of families and buildings alike, as you'll see in my blog below.
But this blog is about our trip and experiences, for which we arrived on 21/12/16 for Christmas with our Philippines family. This was a fantastic vacation, A Bohol Christmas 2016. We crammed in just so so much with as many family and friends as we could. There was no rest. We traveled near and far, up and down, North and South, East and West, by tricycle, bicycle, plane, ferry, boat, multi-cab, tuk-tuk, car and bus. We ate like Kings and Queens, and there is much much more of that on Islifearecipe.net as that is the food trip experience – find that blog here. In fact we were treated like Kings and Queens, not just eating like them.
So here comes the journey. We hope you like it. Yes a picture paints a thousand words, but you still need a few words for context – right?
Day No.1; 21/12/16
Up early at 0500am having packed the night before. Gathering the troops, making sure they have everything. Making sure I have everything. Passports were the last minute check. To Ollie and Amy; "Which passport do you want to use? Japanese or English?" Both decided on Japanese. One short cab ride later, we're at the terminal and 30 minutes later watch our bags moving on the conveyor. We're all good, or so we thought.
"Excuse me Sir this UK passport for Oliver Kennett has less than 6 months validity left, its not good." Says the check-in lady. I then remembered exactly that and the reason we had renewed Ollie's Japanese passport recently. So glad we live in Siglap. So off goes Ollie after we had all finished the check-in to get his Japanese one and join us again. All was good, safely checked in with us with time to spare. Phew! Not what you need at 0600am. But hey it keeps the blood flowing.
Three and a half hours later we touch down at Cebu, and run out to grab a cab laden with luggage to try to make the early fast ferry to Tagbilaran. Traffic though caused that to not happen and we ended actually having quite a chill-out time at Cebu Ocean Fast Ferry Terminal for an hour or so waiting for the next availability. So funny in this terminal as you can here cockerels crowing continually. Why, I hear you ask? We're nowhere near a farm. Let me just say cock-fighting is BIG in Philippines and these birds travel island-wide for competitions. Still very unusual to hear crowing continually whilst sat waiting for a boat.
What amazed me here at the terminal was the investment that has been made in infrastructure since we were last here. New terminal buildings, proper check-in, luggage handovers and ticketing, cafes, nice toilets etc. What a difference to the chaos of the last time we frequented here.
Here is a travel tip for anyone with a height above 5′, and if you have any young family traveling with you. Book business class on any fast ferry from any Philippines Island. Cebu to Tagbilaran is about a 2 hour trip on the ferry. Business class will cost you about $100 SGD for a family of 5 for that trip. Believe me for the leg-room and seat comfort that is a pittance to pay – make sure you do this!
So we are on the ferry. A movie is on. Another quick tip – BRING A JUMPER – they whack the aircon up to UNBEARABLE. It's nuts. Despite asking they seemingly can do nothing about this. A case of the only temperature control they have is on or off. It hits you as you travel just how quickly it gets dark here in comparison to Singapore. At about 1700 we're looking out the windows at the most amazing sunsets as we speed our way to our island paradise. Ollie took these photos through the ferry window – I am impressed!!!
An eventful trip from ferry terminal to hotel, and the dining experience of our first night. Read the food blog on Islifearecipe.net for that as it relates to food and service as well. But I will now close out any more discussion re our poor choice of hotel, as you can read my TripAdvisor review here. I advise you to have a really good think before staying where we did at Sherwood Bay. I do not really wish to mention it again.
Day No.2; 22/12/16
Even a splash of Indie BritPop from yours truly when doing some beach karaoke – Oasis goes large in Anda, but sadly Marvin bottled out from joining me.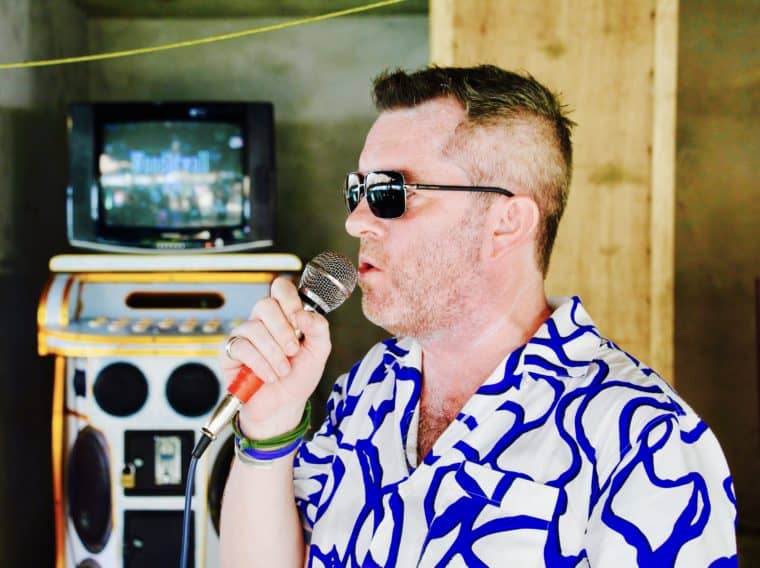 Back at the hotel, its Jude's turn to show off with his amazing new dancing techniques. What a little mover.
Day No.3; 23/12/16
Day No.4; 24/12/16
But then poor old Terry the T-Rex got upset and so so clingy, bless him.
Day No.5; 25/12/16
Today we escaped from Sherwood Bay Hotel for a few nights. We just had to get out of there. Xmas day today too, and family dinner planned. Off to Kew Hotel, which is an awesome joint in Tagbilaran city centre. Its only about 6 months old so it is modern and rather funky, food good, rates amazing, near to everything and family rooms for the kids with 4 beds in them – just wonderful. Thanks to Kew for perking up the experience.
Day No.6; 26/12/16
A little bit of shopping this morning for which we literally just walked round the corner of the hotel. But then later on we booked out this cabana and spent the day at JL's Slides. Brilliant little place. Apparently a Filipina seaman built it for his kids originally, but loads asked about entrance so he expanded it and now has retired from seamanship because he make more money doing this. What a great story.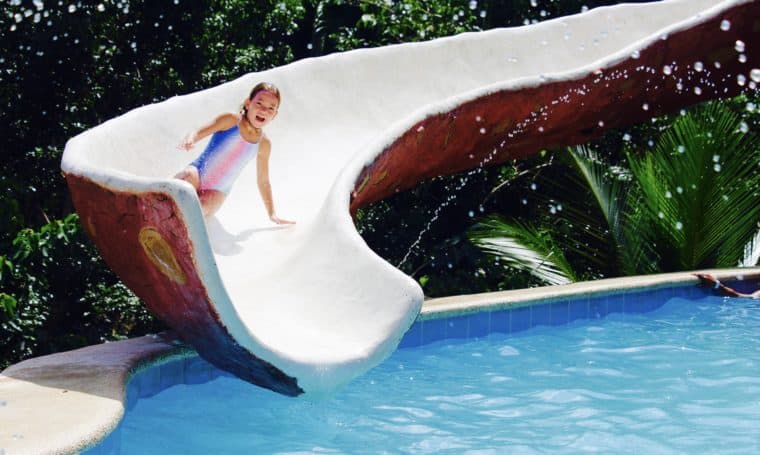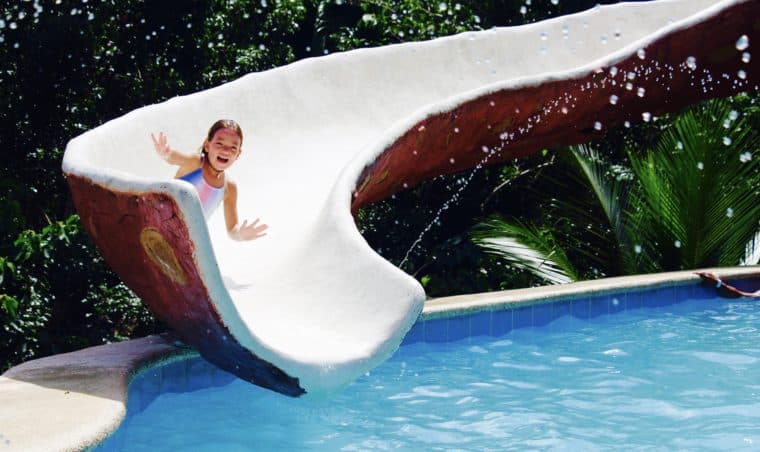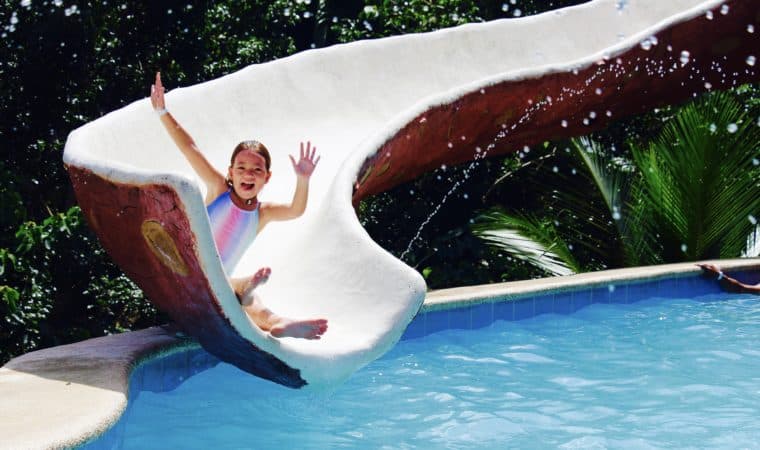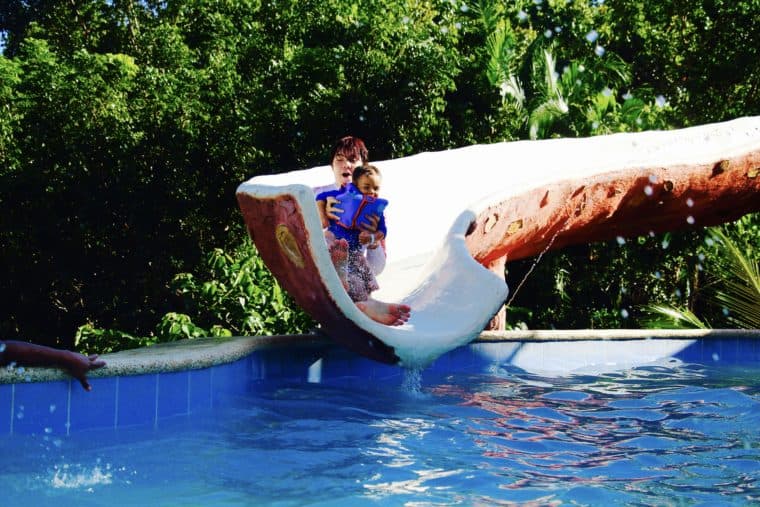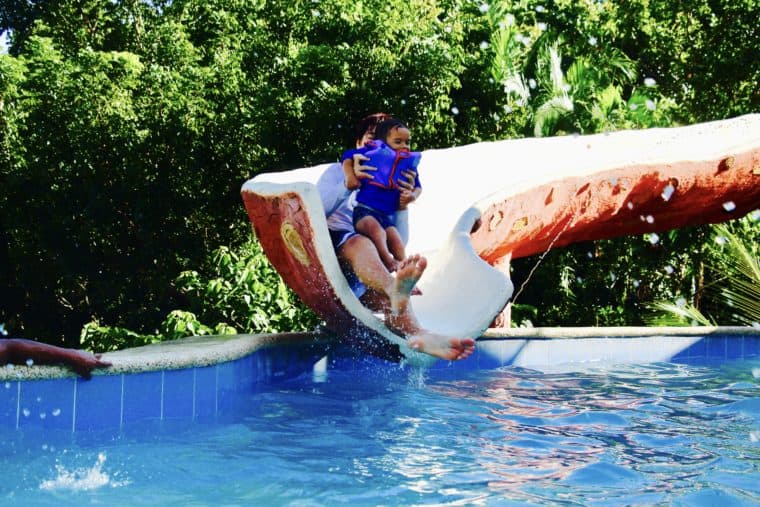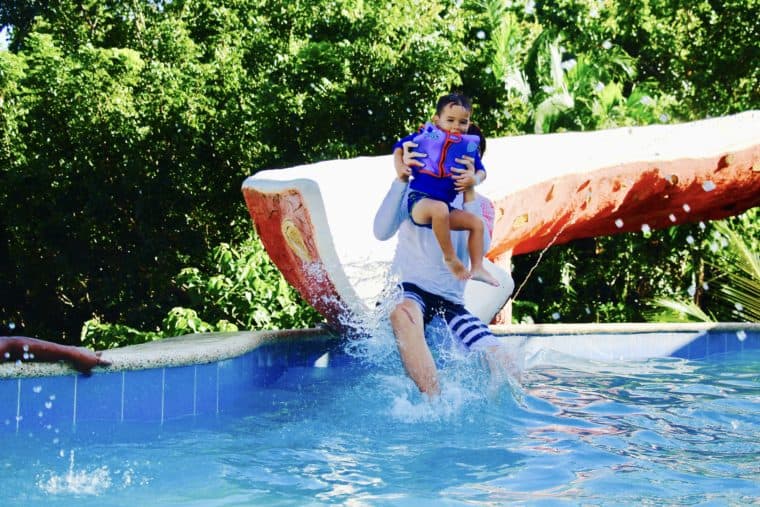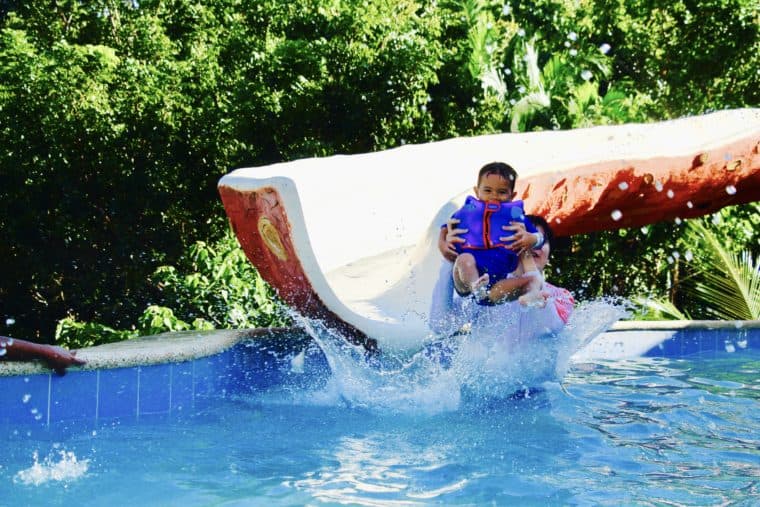 Day No.7; 27/12/16
Now this was a BIG day. 14 of us on a day trip, with Danny at the helm as your guide today. We all cram in and off we jolly well go. What an action packed and wonderful day we had.
1st up was to go an view a potential house I am looking to buy with Mary. Nice right. 4/5 bedrooms, 10 minutes from city centre, 10 minutes to beaches, club house, pool etc. all for less than $200k SGD. Yep I think I will definitely be buying this place, or one very similar to it in the complex
The Sandugo was a blood compact performed here in Bohol, between the Spanish explorer namely Miguel Lopez de Legazpi and Datu Sikatuna the Chief-tan of Bohol. This was done way back in March, 1565. It was done to seal their freindship as part of tribal tradition. Sandugo is A Visayan word  meaning "one blood" How about that.
You know me guys, I am not in the slightest bit religious but this church is stunning. One of the oldest in The Philippines being built in 1797, but sadly it got really badly damaged in Oct'2013 with a size 7 earthquake. You walk in there and get that quasi-eary feeling, its damp in here too as it is made from coral rock, which I presume is petrified coral from the Chocolate Hills nearby. So I went a tad arty with the photographs like above and below. So beautiful in there, but very badly in repair mode.
Back in the buss now and off to see The Tarsier. The world's smallest monkey, only residing on Bohol. So flipping cute these things are, nocturnal hence the big puppy dog eyes and seriously no bigger than the size of the photos below. You can't handle them, as they commit suicide. They are loners with them needing about 1 hectare per Tarsier to live comfortably. Sadly yes they are endangered.Why something this size needs so so much space is puzzling, they'd really struggle in condo living in Singapore ha ha.
It was packed here, so prepare to wait guys. Worth doing it though as it is a beautiful trip. Sadly you get to see more churches that have been decimated by the earthquake, Stunning scenery.
Off to Chocolate Hills now. Originally volcanic and residing on the ocean floor. So when you dig down in to the earth a little you find sea shells as the top of a mountain. And this is where I believe that coral rock comes from for building the churches. It is God's country here believe me. But we did two things at once here, Chocolate Hills but also Chocolate Hills Adventure Park. Very cool as you'll see.
Chocolate Hills is the name because apparently the volcanic soil is black in colour just like the local Bohol chocolate. Hey presto Chocolate Hills.
A weary trip home, staring at at all the Christmas fairy lights as we passed through towns and villages. A massive take-way from Jollibee which we ate all sitting on the floor in our room at The Sherwood. Yep restaurant was closed so nowhere to eat our food. Last night in this place as we're off to Kew Hotel again tomorrow morning, hallelujah.
Day No.8; 28/12/16
Again today we escaped from The Sherwood, and traveled to Alona Beach and the newly opened Hennan Resort. Wow. A Chinese and Philippines investment, and holy cow is this place good. We paid to go in as guests and then basically spent the whole day in the pool, eating, drinking and playing. What a fantastic last day at the beach, seriously check this gaff out.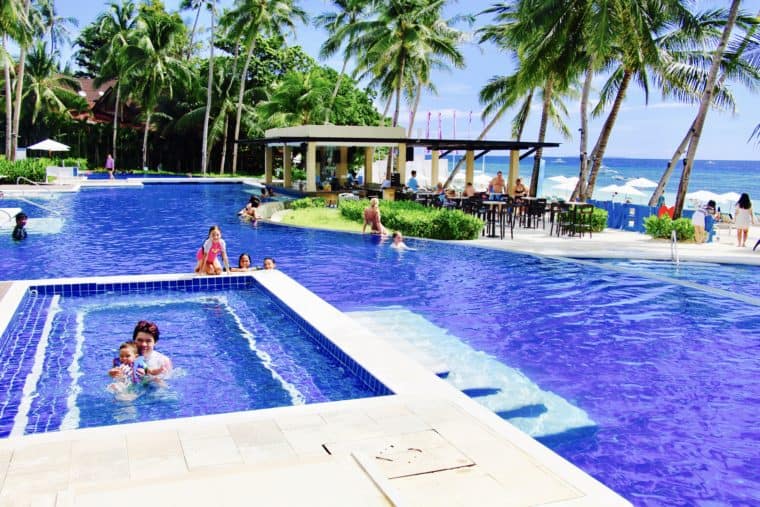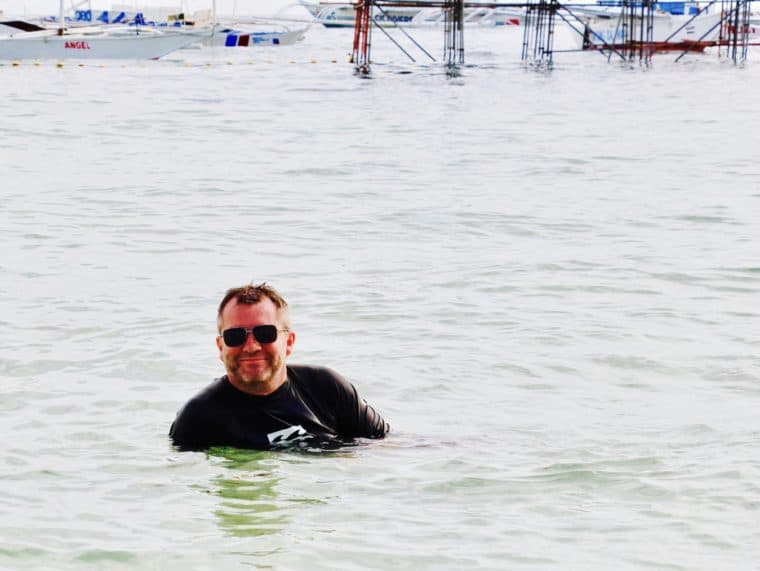 Funny we bumped in to the other guests at Sherwood Bay at Hennan, and they were also doing nothing but complaining. Their words were; "Shameful". Dear me. Hennan was anything but that.
Day No.9; 29/12/16
Our final day folks. Off to Kew Hotel again, for final fun and a family meal as the next day was up very very early to get the ferry and flight home. Sadly, very sadly indeed.
A day of shopping for final few bits. Snack at the hotel with a brunchy breakfast. And dinner at a place I found, Asian Fusion of local favourites and 5 minutes from the hotel. Yep happy with that. Here we are sitting outside Persona Mesa about to engage in some amazing food consumption. Sadly the gang of 7 that has been together for the past 9 days is no longer following this meal. Love you all guys and will miss the fun we have together. It was a truly wonderful Christmas – thank you.
I finish on a double up of the same photo from the top. Why? Well because this one signifies to me the whole holiday. ALL our kids together in one place. The total family. All having fun, and all chatting (well nearly all). This is why we came. We miss these guys, they miss us, they miss each other. We had such fun for 10 days together camping out in fairly cramped hotel conditions, some good and some clearly bad. We ate three times a day together and giggled lots. We really and truthfully did just have fun. I cannot thank Mary, Jimboy, Jhea, Ollie, Amy, Jude and the rest of our family  and friends in Bohol. You make us so happy and so welcome, and that means so much to these 'aliens' that invade once in a while. Thank you. We will see you soon, but for now that was A Bohol Christmas 2016 – ENJOY!!!
Is Life a Recipe YouTube Channel