Bali Day #8 – it's Ruther's 50th & New Year's Eve
Where is this holiday disappearing to? Bali Day #8 – it's Ruther's 50th & New Year's Eve began with a trip to Ubud town for lunch and a little shopping. I chose the lunch venue and holy cow so so glad I did, as this place is legendary. Spice by Chris Salans. It is a MUST MUST do if you are in Ubud. Again check Islifearecipe.net for more on the grub. Coming to a blog near you soon. But first Daddy had to slip in to his feminine side and colour Amy's hair. She sort of looks like one of those unicorns dolls, just minus the horn. I think I did a great job of it and she did give Daddy compliments for his work.
Mark and I popped out for 10 minutes as things were cooking on the BBQ. We get back to be met by an excited Amy. Yes she took us to the scene of a crime. One of the feral jungle cats had broken in to the kitchen, pulled a whole fish from our tray, unwrapped it from the banana leaf and scarpered – the little shit. OK down to 6 fish now.
A quick call out to Amy and Ollie for being photographers this evening, and a special thanks to Freja for capturing the; "Adults having fun with fireworks" segment. Great work you three, Thank you.
We stopped in the way home at the local market for Daddy to get supplies. Supplies as in stuff for New Year eve celebration. Supplies as in FIREWORKS baby. So I picked up $65 worth, or 650,000 Rupiah. A big bag of big buggers. This is gonna be fun, fun, fun. We had Flash (perfect name) in charge of the kids show, before it got serious with double and treble up time. Let's have a little watch.
CLICK HERE to watch the rather tame oooohhh aaaaahhh moments for the kids. This is before it gets XXX rated, adult only.
Then we get to the pinnacle of the night – to see in the New Year, Daddy went shopping. Oh yes. And Daddy found this mother.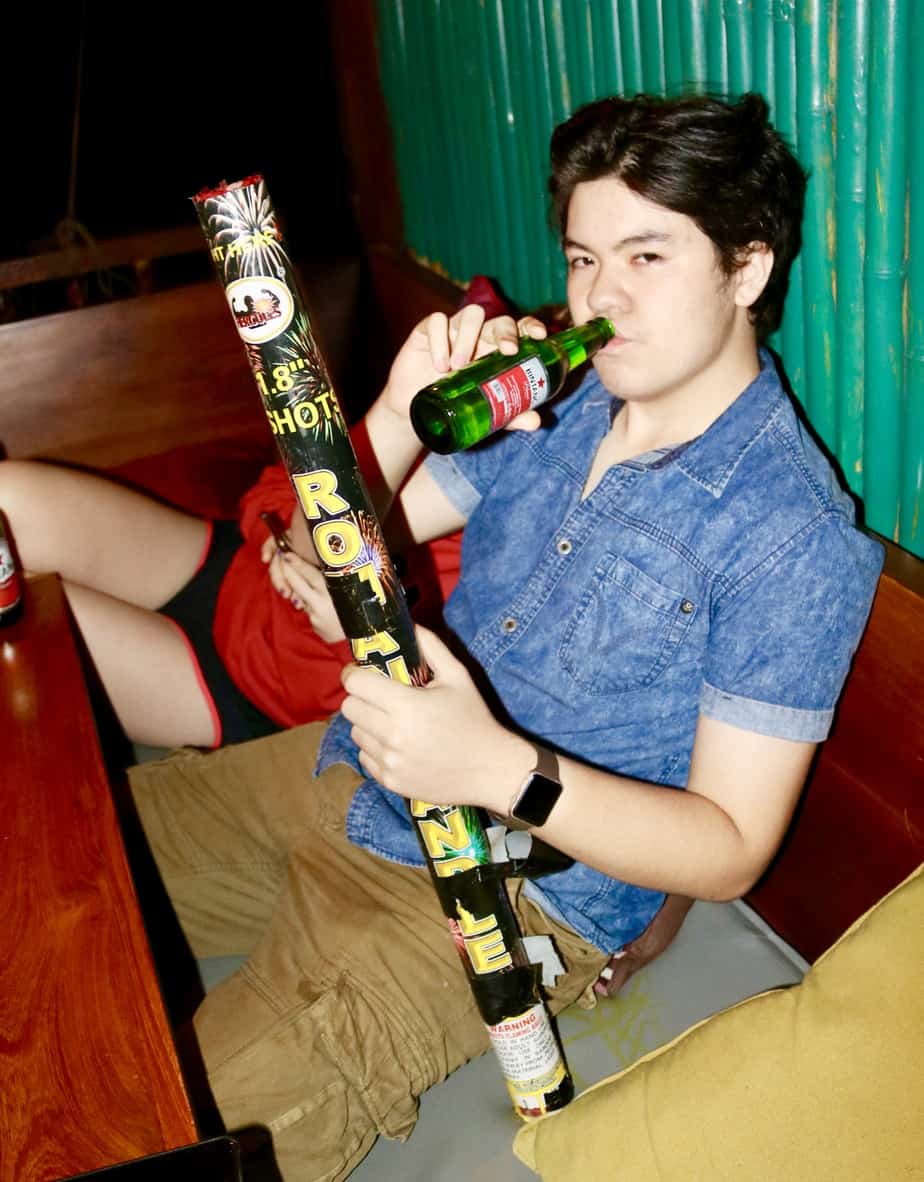 Imagine three grown men cowering behind a BBQ lid, AKA shrapnel screen, in the jungle undergrowth. Meanwhile upstairs in the restaurant is Freja Rutherford, AKA, Kate Aidie running continual footage of the forthcoming carnage. So Ollie, Flash and I are standing next the the BIG ONE. Nervous giggles between us, and some sort of speech being uttered by Ollie for 2018 – to be honest a little poo and wee was exiting body Kennett so I didn't hear any of it until the video replay. In front of us we had the lid of the BBQ as a blast shield, yeah that works, well of course it will after about 15 bottles of Bintang. What could possibly go wrong?
Maybe the masking tape 'lashing' we had done to a stick stuck in the ground, might come loose with the force of the BIG ONE. Maybe it would then start firing at us and the house. Maybe we would create out own footage akin to Bosnia and Kuwait. Maybe we would have shrapnel flying past our ears. Maybe we would end up blowing up a rather chunky and solid pond/plant pot with one wayward rocket. Nah, surely not. It surely could not happen right? Well it bloody did. Scary shit it was. Yes poo and wee did exit.
Thank God for the blast shield, my counterparts in HSE, Ollie and Flash, and for Kate Aidie for the footage because that was one hysterical moment in time that needed keeping forever. I have not laughed so much for an age – thank you all for that. I was finding bits of the pot blown about 10 feet away the next day. I kid you not – have a check out here.
THIS IS MUCH WATCH TV – CLICK HERE
A few games of Taboo and HeadsUp and bugger me it's midnight and the clock striketh. HAPPY NEW YEAR everyone, family and friends all over the world. Much love from Bali and family Kennett. Steve and gang it has been a blast the past few days. Bali we have seriously missed you and will not leave it so long before we see you again. This was Bali Day #8 – it's Ruther's 50th & New Year's Eve. Another wonderful day and night. Standout for me was, of course, the BEAST firework – please watch the video and we hope that you also – ENJOY!!!