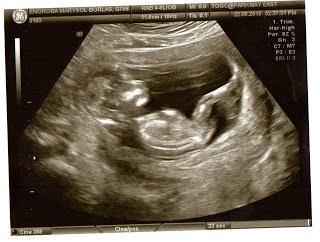 Oh yes.
There is indeed life in the old dog yet.
There was I thinking I had sperm on Zimmer frames.
Apparently not – my boys are athletes! Sprinters! Runners! Marathon guys!
Woo Hoo!
Mary and I (well more so Mary) are pregnant – 12 weeks in readers.
No idea at moment – so it is indeed a he/she – the umbilical cord was wrapped around the wee ones lower regions not allowing our Dr to ascertain the sex.
I have to admit as a proud Dad I did challenge "are you sure that's the umbilical cord love, he is a my son – it looks about right?!"
Cough cough!
So as in the film 'Sliding Doors' it is indeed all change for this 44 year old and Mary 35 year old. Some great stats;
We now have a combined 5-a-side football team
Mary and I make 79 years old combined
I'll be 62 when having my 1st glass of vino with Junior
Ollie will be 21 when he/she is 10
Amy will be 16 when he/she is 10
F*CK ME
Anyways – to all, we are very excited – kids are having a field day – yes baby 'thing' – they can't wait. Amy's words yesterday were "is it off your tummy today?" – I think she wants baby time now! Sorry NOW!
Bring it on world!!!
Very excited!!!
Very happy!!!
'Tiny movements like tiny kicks
Tiny baby, a mother's bliss
Can't wait to give the tiny you
Huge hugs and lots of kisses too
What tiny dreams you might have now?
I would understand ……….'
Come on baby XXX,
Welcome to the world,
Come soon,
Come safely,
Come say HI!
Come to us!
We ALL are waiting!!!