I will open this Blog with a beautiful verse shared with me from a very dear friend, who shall remain nameless. She shared this with me, because she uses this every year to remember her father who unfortunately passed away in 2010. This is so so beautiful and so so true. Thanks so much for sharing this with me xxxxx, it means a great deal to me.
I thought about you yesterday,
And days before that too,
I think of you in silence,
And a picture in a frame,
Your memory is a keepsake,
From which I'll never part,
Last year I was in UK and Miz held a small party here in Singapore.
This year I am home, so I asked Ollie what he he wanted to do for his Mum's birthday and "party" was THE only option.
We all know she would have loved that, and of course she'd be there with cheese and Sav Blanc in hand, mingling, laughing and glowing – surrounded by her friends and family!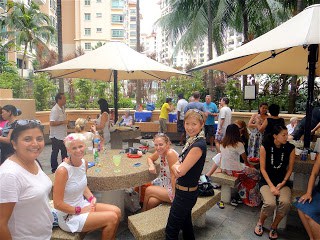 About 60 people attended yesterday.
Miz and I were both cooking from early doors until literally the last minute, 1330, delivering the last dish direct to the table. Everyone brought something, be that food, snacks, drinks or all.
We had eskis parked up like cars in a traffic jam, and friends all having fun.
Thanks so much to Miz, Mary and Adeline for helping make this happen on the day. Thanks to the kids for being SO very good. Thanks to everyone that came.
Yes she did it again as you can see.
3 years later and she still gathers all friends together from all the sides of SIngapore, and truly from around the world.
Some we have not seen for a year. Children growing so quick, which is the demonstration to me of how long it is since we have seen each other, the height difference since we saw them last.
Friends/friends/friends.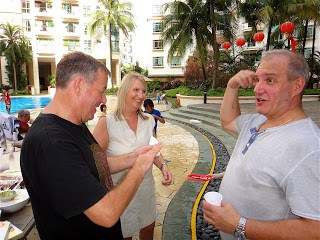 Here are a couple of beautiful messages from friends across the globe. Sorry to those that rang, as yes, usual dopey me I managed to pour beer on my blackberry when I was walking down to the BBQ pits to set up the food. Dear me. A day and night in an air conditioned room and it seems to be working again now, thank goodness! So apologies to those ringing, I literally had no phone all day long.
"Brian, Yesterday was so lovely, thank you so much. Your lobster rice was so delicious I am very impressed. It was especially nice that the children had such a great day and xxxxx adored seeing the East Coast crowd which are part of our happy coming to Singapore memory. I got over emotional again and sloped off all tearful, which of course is completely pointless! However, it was lovely to raise a glass to beautiful Nina and be with you. Many thanks for inviting us."
"We will be thinking of you and raising a glass or 2 of Sauvignon Blanc tonight.
In memory of the lovely Ni.
Love you pal and thinking of you xx"
Thank you also to those that could not attend in Singapore, that sent apologies and very kind words. It really means so much to me and the kids to hear them, thank you.
In the UK at 0800, 1600 Singapore time, flowers were being placed on Nina's grave in London. So Miz and I had a moment then to remember the girl at that point as a family friend was there for us.
I also just want to send my love and thoughts to my dear sister in New York, who shares a birthday date. Happy birthday Sis with love from us all here. I know it's so so tough for your with happy and sad memories for this special day for you. Love and hugs are winging their way to you from Singapore.
Ollie was like glue for his mates as usual. One minute in the pool, the next on scooters, the next on iPads. Look at these guys, like a pack of lions devouring a carcase – nope they're watching iPad Ollie!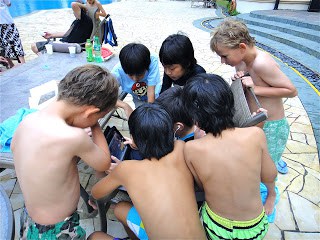 Some sad sad news. This picture may not be possible again, as Yukiko is moving back to Japan due to her husbands work. Such sad news. That's both our friends named Yuki, both departed back to Japan again. Very sad!
So to my dear wife I wish you a happy birthday darling.
Always in my thoughts, and as you'll see always in a lot of other peoples thoughts and memories too.