Henry Berlandier – read if you like the era of adventure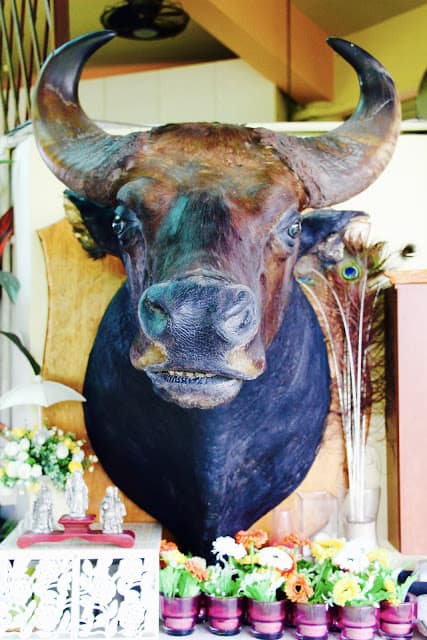 Wild Malaysia Buffalo

So we are down East Coast for lunch, a play at the beach and then a meander home. But it is hot, as in flipping hot. So we need another stop for a rest and refreshment. Well actually so we can wait for a cab, and have a beer so we don't have to walk any more. There we are chilling and Mary comes back from somewhere with Jude and says why do they worship a cow. I was thinking Indian family and sacred cow when I spotted what she was referring too.

No1 not a cow it's a buffalo or bison.
No2 I don't think it's a shrine as it is mounted.

As I am looking this guy pops out his head.
"It's a wild Malaysian Buffalo." he says.
"My Dad shot it when I was 2 years old." he continues…
"It was 6′ high at the shoulders, and had killed 7 people." he goes on.

(Miz – you would have LOVED this)

Do you think he had me at this point? Hell yes.

He then finished, that his Dad was a hunter in Malaysia and used to get called in when they had rogue animals. And this monster was no exception. Seriously look at the size of this thing.

I had to ask. So if you were two years old when this got shot, when was this actually shot.
He said; "I am 54."
So that makes this beast 52 years old since it was put away.

Totally amazed now, I return to my seat, eager to tell Mary. As I sit there over comes the owner with a book, and some bookmarked pages.
"This is about my Dad."

I read it, and it is incredible. If only there were more memoirs to read, what an incredible three pages describing adventure, then family and then sadly his death to cancer. His name was Henry Berlandier. Born 1930, died 1992. He goes down in history as being one of the very best hunters in Eurasian history – with specific focus at the jungles surrounding the Malaysia areas of Johore and Pahang. Not a sports hunter, only hunting for necessity.

Bit if something went bad and an animal went bananas, or rogue, and started becoming a man-killer then the park rangers would call Henry. The park rangers, or Orang Asli, would always call Henry as he always got the job done, and done efficiently. He would always do it alone, maybe to preserve others lives or likely because they'd just get in his way. Incredible stories like he would never use insect repellant as the animals could smell it, so he would endure hours of sitting the jungle getting eaten alive by all types of parasitic insects (we who live in Singapore will know all about that). He only took water so not weigh him and down and hinder his movements.

He had to track it.
Find the right one.
Deliver no sound, but listen to the sound of the animal.
Sit still for hours on end waiting – whilst getting munched on.

He would also never shoot the animal in the head, only where he absolutely intended so so as not to ruin the value of the animals skin – a 'perk' of the job was to onward sell the skin. Within the book is a picture of Henry with a rogue elephant he had just despatched – huge bloody thing. B&W photo of Henry, stern faced standing over the animal at this feet, with his rifle in hand. Apparently there were witnesses that watched this man kneel in front of the charging elephant and released a single shot to end its carnage. WOW. Imagine it.

He also killed a 5′ rogue albino crocodile once with two shots in to the neck (that's a lot of crocodile). People apparently disputed that he had actually done so as normally shot crocodiles would float to the surface thereafter within 2 days. Apparently Henry sort of shrugged this off with the confidence of a man that knows his skills, went back a week later and claimed his prize. Love it. Apparently the skull of that very same croc still exists and is with one of Henry's children – not with Paul it seems as he has the buffalo memento.

I just felt compelled to write about this amazing man. I remember days as a kit reading compendiums of adventures to Africa and other jungles and encounters with natives and wild animals – and hear I am at 47 meeting the direct descendant of one such adventurer. Paul I hope I have done your Dad proud – great to meet you, and hope to one day again soon.

Thank you so much for sharing the story with me.
So folks a recommendation – get down to Sunset Bay Garden Bistro, Carpark F2, 1300 East Coast Park Service Road. Go meet Paul and have a few beers, a chat, and some of his delicious food too.