Say hello to the world baby Jude.
Here he is folks.
Now is that a cute face or what – look at that little nose. See he is laying on his side.
Ollie came with us today and was VERY excited to see his little brother.
Why Jude for a name?
Well I just love it as a name (my Japanese Sis will also know another reason – ha ha) and hey my Mum's name is Judy, so not too far from that.
However did you know;
Jude – is a boy's name of Greek origin, and the meaning of Jude is 'The praised one'.
Happy with that!!! Hope he will be too.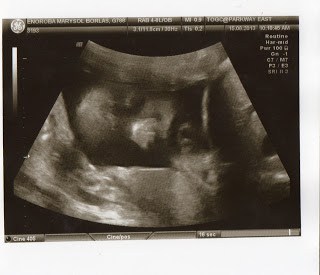 In Rolf Harris style – 'Can you guess what it is yet?'
Yes he is the son of Brian.
Yes he is a boy.
That shape sticking out on middle left is indeed proof that he is.
That's my boy Jude!!!