A very lucky Brian Kennett gets to fly to Japan for customer meetings.
First time the new Haneda airport, which was just great.
Red eyes on both trips though so as not away from the kids too long, as Mary also away because of you no what reason. So night flight on Wednesday and early am arrive Thursday , quick shower at hotel and straight to office for the day, meal that night, couple of drinks after, up early, client workshop all day, quick bite that night, off to airport and fly again late night to arrive back in Singapore 0500am on the Saturday morning – Phew!!!
But we did cram in a fair bit in that very short period of time, by walking around – here we go.
And my flight companion is… Come on mate I have not even started to snore yet – a little excessive methinks. Clearly he is not going to want to chat during the flight.
Not a bad view from the hotel room – the amazing Tokyo Tower in all its glory, on what was a rather crisp but beautifully sunny day in downtown Tokyo. Very nice indeed. Very beautiful in fact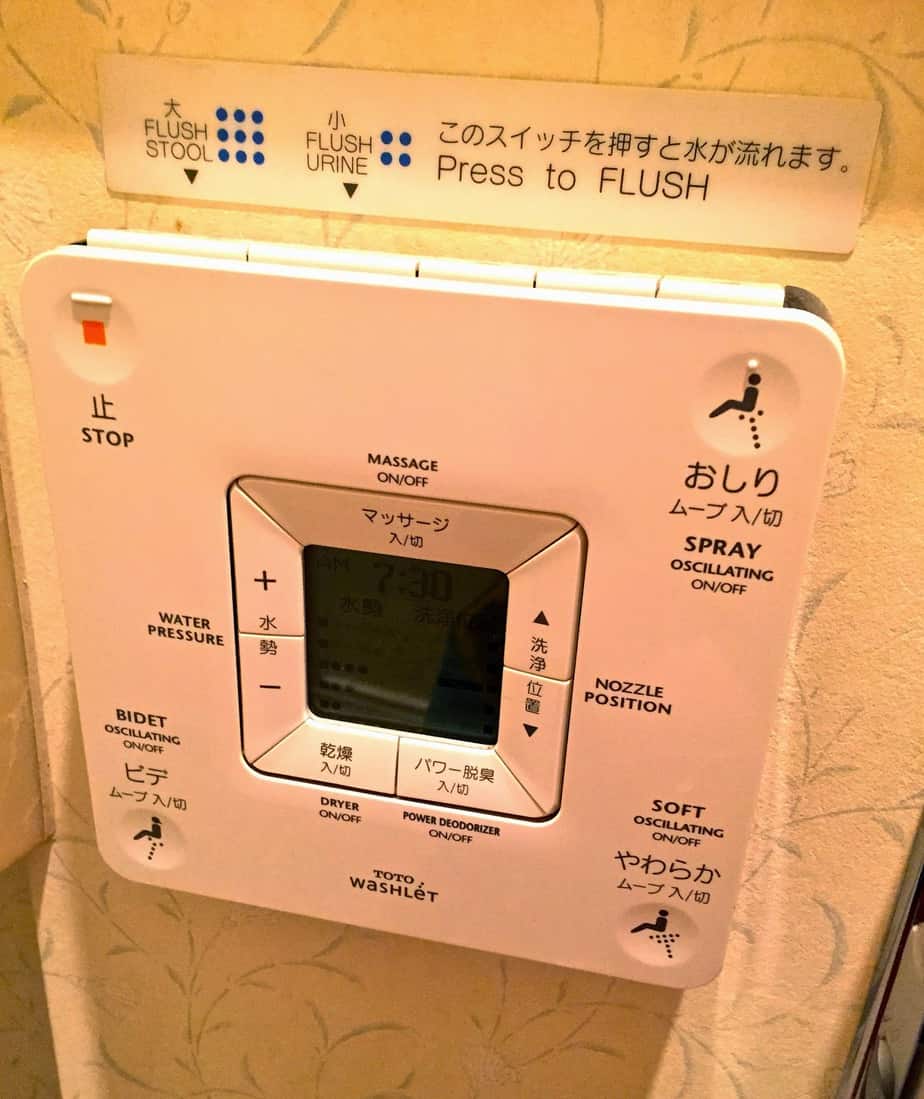 OK a quick shower and a pop to the loo before I go to the office to freshen up. WTF. Looks like the cockpit of the space shuttle. I only wanted a poo. Hold on a poo is a stool right? But I did a wee as well, that's urine. Do I push both flushes? And what is a Bidet Oscillating? Where's the manual? Massage? Is that during or after my poo. What's the nozzle, where does that go? Alter the position, what if I get the wrong position. Too many choices. Hold on where's the bloody paper?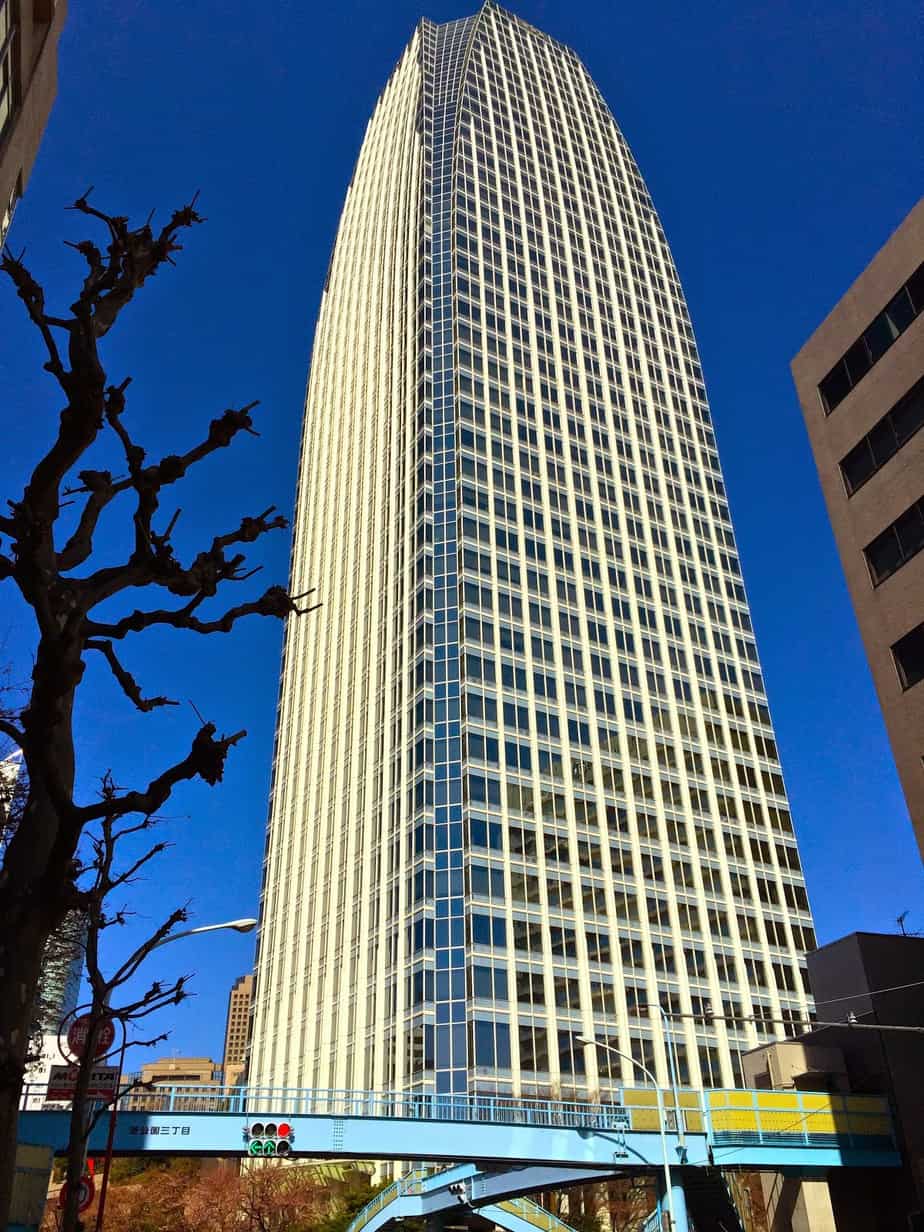 Now that is not a bad place to be working from now is it? Yep this is indeed where Telstra Japan is located. Liking this already. A rather brisk 20 minute walk from the hotel to here as it was indeed flipping cold for this Singaporean blooded ang mo. Used to 32 degrees, not 10 degrees with wind chill.
Now in the office and my mate and colleague, George, says you must come see this. A quick look out the window and hey presto check that skyline. No I am not looking at the football pitch, I am looking at the white cone shape on the horizon. Yes folks that is indeed Mount Fuji, or more affectionately known as Fuji-san. Is that not beautiful or what. Masses of fond memories of spa trips (see previous blog) come flooding back to me seeing this. Just stunning!!! Loving Japan more and more, as every minute goes past, and sadly on this trip there are not too many minutes to spare.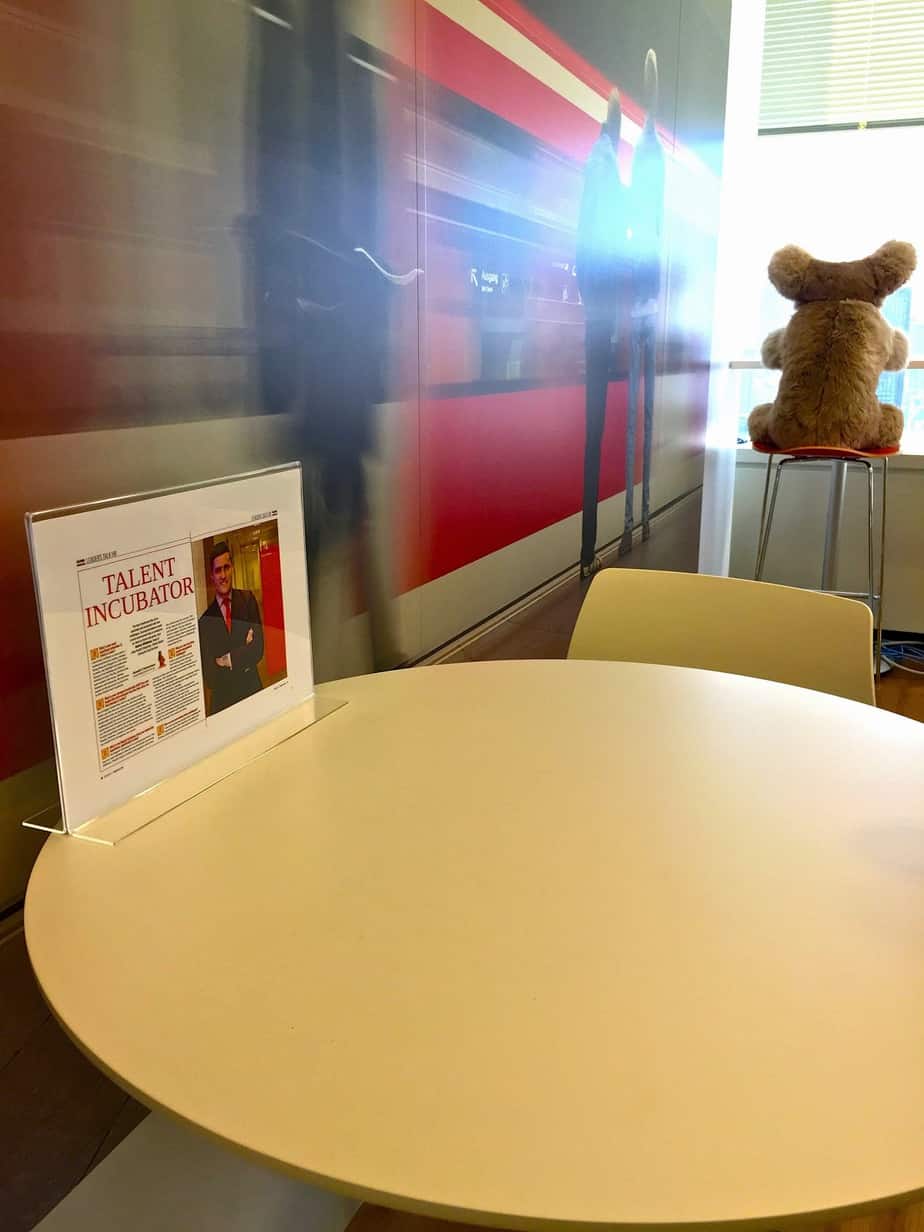 Now my boss was not with me on this trip, or was he – see that picture it's like the eyes are following you, ha ha. Sorry boss, but yes you are honoured in the canteen area, and partner in the same photo is a stuffed koala staring out over the city. Liking that. So Mr Wildblood was on this trip with me in the end.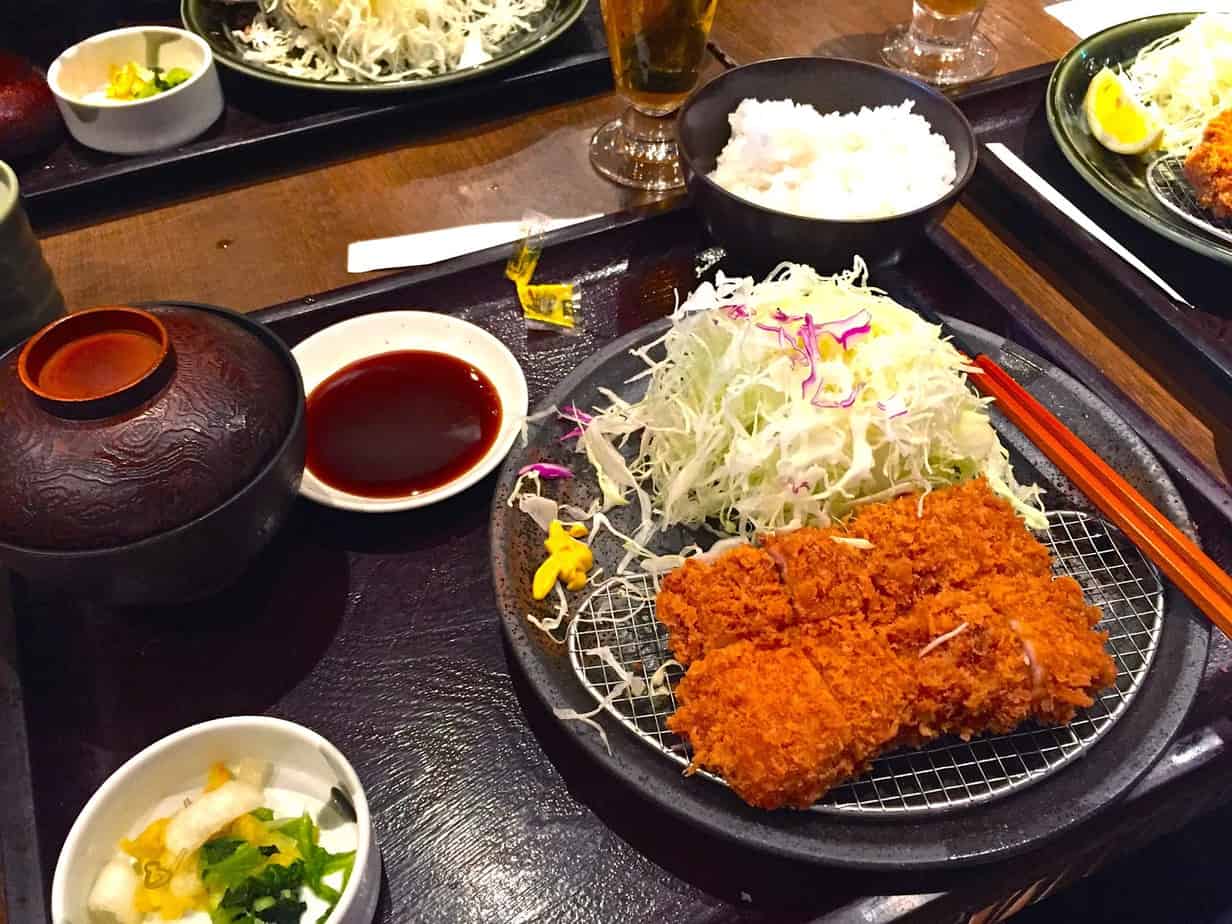 A quick pop downstairs in the building for some Katsu – this is one of my favourites in Japan. But not every day as this bad boy is deep fried. This is pork loin, breaded and fried with what is called BullDog sauce in the top middle – a dipping sauce akin to Branston Pickle in flavour just minus the lumps. If you want some moist pork fillet, with fried taste, crunch of the bread crumbs with a fruity tart sauce, this is the one for you. The legend that is Katsu. YUM.
Sadly about 5-7 days too early for the floury of the cherry blossoms. But you can from here what the potential could be. We were there literally 2 days and already in that time the buds were popping open, and in fact on the last day some had already started to drop, almost snow-like. Back-drop here is a temple right in the middle of the walk home from office to hotel. Soon office juniors will be camped beneath, setting out tarps and seating areas for the management to come sit and enjoy evenings of food, drink and discussion under the beautiful blossoms.
Plonk. Wherever you are in in whatever city, town in Japan you get this. A beautiful temple entrance, stunning in fact. And to the left is my hotel and to the right is Tokyo Tower. The blend of the historic with the modern is rife here. It is everywhere. But the culture is revered and will remain for as long as the building can stand.
Now you would have seen this perhaps before as a stand alone FB.com post – but here are my colleagues for this trip – Chris and George (L-R), and yours truly clearly performing some detailed research on our potential clients. Next day, like Mr Ben, we'd be immersed with our Japanese team colleagues x5 and 4 from the client team. I always endorse research, cough cough, as it enables a much better performance on the day if you know your client and their propositions.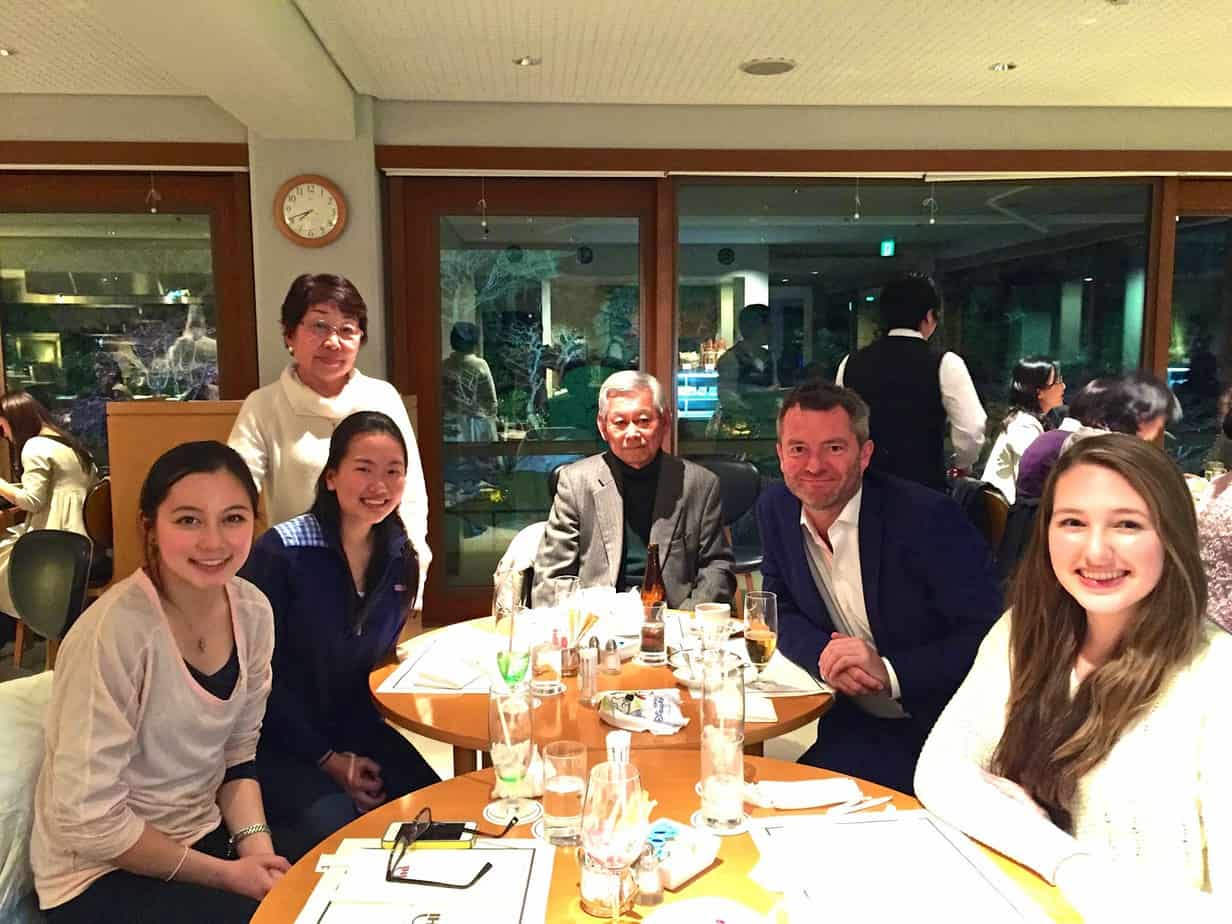 Again if you follow my FB.com you would have seen this. But again here we go. I just could not miss the chance to meet up with my mother and father in law whilst there. Plus amazingly my niece was there all the way from NYC with her two college friends. Double no way I wold miss this chance. So straight from work to meet them for a meal and catch up. How lucky am I to get this opportunity, and how lucky it literally co-incided with when I was there – worlds colliding and all that. Quite incredible. What a lovely meal, a lovely family mea. So so nice!!!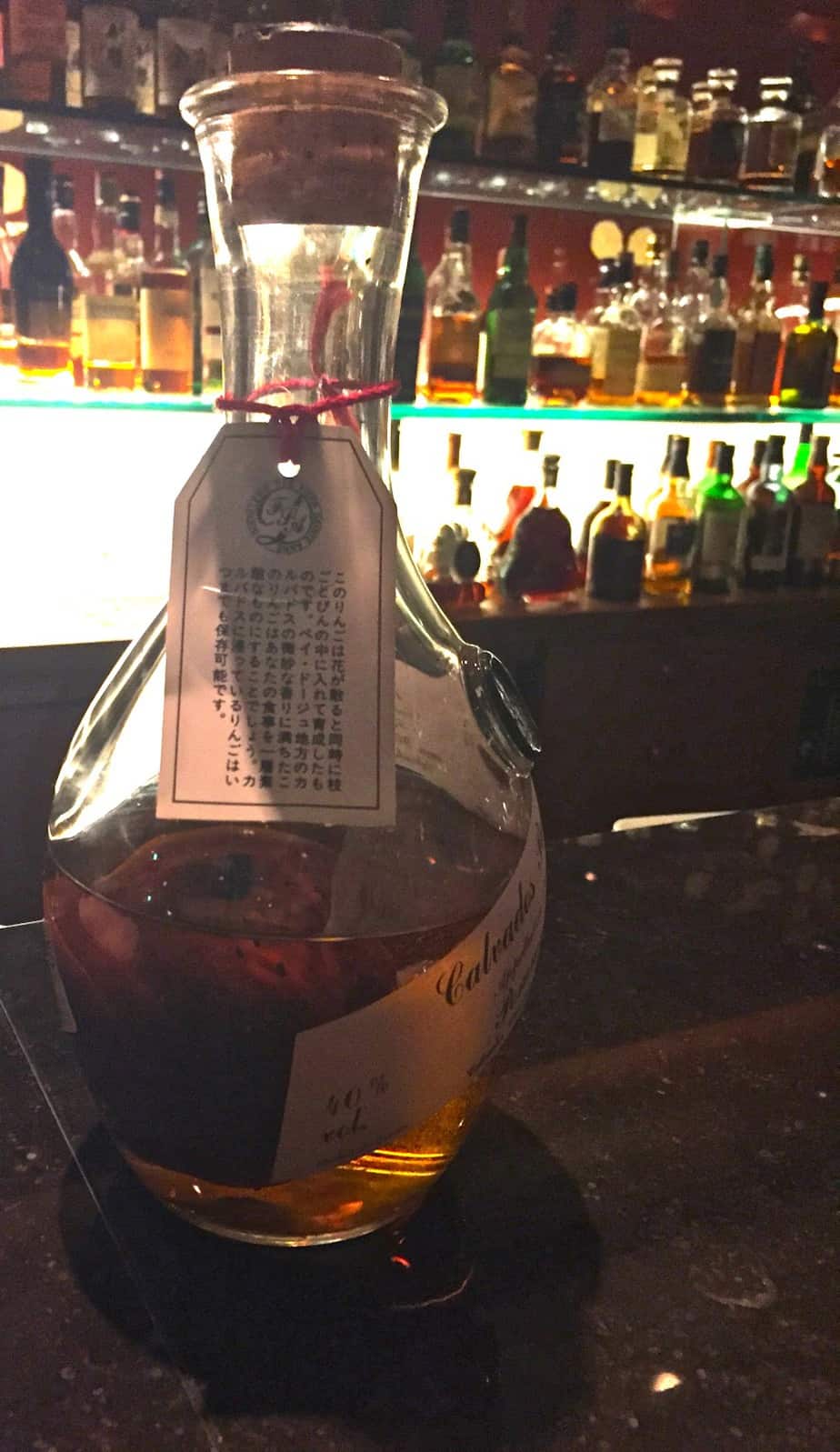 But then of course a catch up back at the hotel with George to discuss the forthcoming day. Plan the flow. We had the content. But plan the flow. All was good. But what is that sat across the shelf? It's a bottle with a huge apple in it. What is it? It's the French spirit of Calvados. Now that is one thing, but the big question is how the hell do you get that apple in to that bottle? It is one bottle piece. No they do not seal the bottle bottom. Any ideas? It blew me away. Literally what they do is create the bottle and then place the bottles upside down over the apple shoots and grow the apple in the bottle. SO picture this apple tree covered in bottles with apples growing within, and then when fully grown snip, and turn up the right way and fill with liquor and let the process of ageing begin. Amazing!
An early night – so lets have a wee beer nightcap or roadie as I now work for an Australian company. A beer and a final ciggie on the balcony, very Bill Murray style in Lost in Translation. And my view is this. Not a bad view to say good night to. Not a bad view at all. Good night Tokyo.
Final night. Freezing cold. Truly freezing cold. We ate at a place opposite Tokyo Station, Tapas – yep Spanish in Tokyo. Damn good it was too. Iberica ham imports, croquets, paella, spinach tortilla with chorizo, sardines, and on in true tapas style. It was delicious, sat on a roof top overlooking Shinkansen's flowing in and out of the station (bullet trains). But the wind chill finally got the better of us so we moved to street level to say goodbye and we walked the small restaurants and bars – some so small you can only stand and only have about 5 people at a time eating and drinking. I am in love again Japan! What a country!
And to the last memory – Miz and Yuko you'll remember me being in awe of this machine once before at one of the restaurants we visited on a previous trip. The self pour beer machine. This one at the ANA lounge Haneda. Looks like any standard drink machine right. Put your glass, push the button and hey presto drink? But this is beer, we need a head.
So the machine automatically tilts the glass to pour. A perfect head ensues. Only in Japan. Too short a trip, but one that was successful on the work front, and full of that amazing variety you perhaps only get in Tokyo. The old and new in perfect harmony, the culture evident everywhere, retained and respected, the politeness, the cleanliness, the beauty, the food, well pretty much everything just makes you want to stop and soak it in. Hoping to be back soon. I have missed you!