Kennett's @ Universal Studios, Resorts World Sentosa
OK it is Chinese New Year, and we had decided to stay home. But whilst we are at home there is still so much we can do, such as going to Universal Studios. So we did indeed have an amazing Sunday for Kennett's @ Universal Studios, Resorts World Sentosa. We took BeBe, and Ollie decided to remain, hardly ever joins us now sadly. BeBe I think had such a giggle, as did we.
A few new things happened to us this trip too, so read on to then end, there are some amazing MUST do things. What a spanking day Kennett's @ Universal Studios, Resorts World Sentosa was.
Baby Jude about to get jiggy with it on the Madagascar Carousel, AKA King Julian's Beach Party.
Now you simply must watch the video below, the rides one, even if it is just to watch the very first one. Jude's first time on a rather fast roller-coaster. It is a CLASSIC. I cannot stop watching it. His little face when we hit the top of the climb and start to accelerate is a keeper for EVER!!!
Amy and I took BeBe on both Human and Cylon and despite the screaming it seems that these were her two absolute favourites. Go BeBe. Funny cos my Mary won't go anywhere near these rides, in fact she can't seem to even video them without feeling sick. Top fun!
Yet again Amy got pulled out of the crowd in the Donkey Knight Club show. Amazing! That's like three times now. Jude loved that show and was up dancing and singing with Donkey.
BeBe was up again for this one. Very brave – and she loved it, as did we all (well apart from my Mary). I reckon Jude will be good to go next year on these rides, he was like 1″ not able to go on the Jurassic Park Rapid Ride Adventure. It then becomes a family ride – whoop whoop.
WaterWorld was a classic. It was packed, like every seat was taken. So my Mary sits up the top alone, and Jude, Amy, BeBe and I literally sit on the very front row – "you definitely will get wet splash zone". And what fun we had sat there. Yep we got soaked, Amy even got pulled out by stunt guys that also do the 'crowd warm-up' and got soaking wet, because the guy behind her squirted her without her knowing. Too funny. Great show.
One call out for customer advocacy if you happen to read this. One of your guys saw me sat with Jude on my lap (4 year old), came up and asked where we were from. I answered Singapore. He then replied have you been before and do you know what happens if you sit here. I said yes, we have been loads of times and love the show. He said that's great, and can I just say thank you so much for coming back to see us again at Resorts World Singapore. Be proud of that staff member RWS Singapore.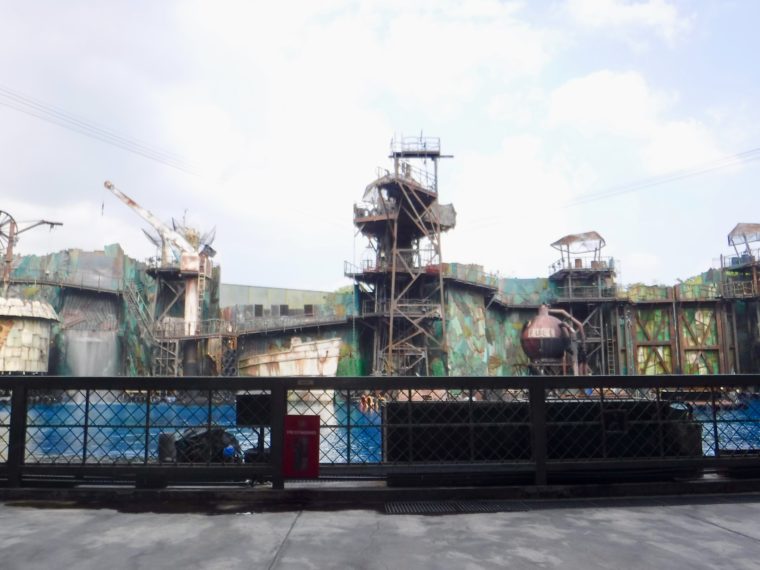 And out final photo is WaterWorld – stunt spectacular. This was a classic today – read above!
Kennett's @ Universal Studios, Resorts World Sentosa videos are up next. You have to watch these. I would recommend the first bit of our rides, you simply must watch the Jude one, it's too funny. Just watch that face change when we crest the climb and speed up. Too good and a facial expression I will never be able to forget. Love you Jude.
Our rides at Sentosa – Whoop Whoop
And for The Dancing Cranes I seriously would watch the entire thing. What an incredible show, for absolutely $0. We came about 5 years ago, and it got to about 1/3 through and came to a grinding halt with technical issues, that then lasted years of it not working again. As we were there and having a full day, lunch and dinner and the show starting at 8pm, we popped. And I have to say RWS, this was the crowning moment of a fantastic day for us all – this show is now a DIE DIE MUST TRY for ANYONE living in, or visiting Singapore. INCREDIBLE!!!
The Dancing Cranes @ Resorts World Sentosa
So there you have it folks Kennett's @ Universal Studios, Resorts World Sentosa. What a great day. New days for Jude and BeBe. Mary and I had such fun seeing them have such a great day out and new experience, and of course Amy for a repeat experience. But for me the amazing thing was the Dancing Cranes – it was just breath-taking. You just have to watch that. If you do copy our day today, I am 100% certain you will – ENJOY!!!
Is Life a Recipe YouTube Channel