A lovely lazy Sunday afternoon with Maricel and the girls to celebrate her birthday.
Bless the girls I also got a surprise birthday present – a photo diary almost of the last 3 years of the fun times we have had, with beautiful comments from them all. Truly a wonderful gift, and so so surprising. I really was not expecting a thing, and to then get that with so much thought put in to it. Girls you have amazed me, I LOVE it – thanks so very very much. Love to you all.
So here are some shots from the day.
Kids going crazy in the pool on a beautifully sunny day.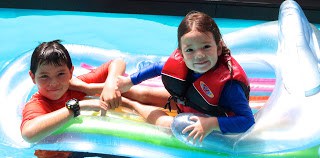 Lennie showed with a 2 year old from her employers. They had gone to a party so Willow came to our party. A VERY cute girl who "on cue" would pull the loveliest smile for photos. Of course all the girls melted and demanded photos with her – ha ha!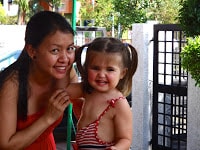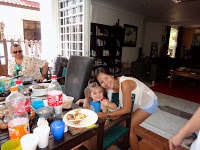 We even had a birthday cake made by Gina's sister, and topped with icing by Gina herself. Delicious.
Although for some reason Maricel and I ended up wearing most of it????
Amy decided to do some weight training for some crazy reason – build those muscles up Amy-Boo.
Plus she went crazy on the skate board up and down the car pool.
FaceBook FaceBook – oh yes no blog would be the same without the infamous shout for Mary. Love the new outfit hun, VERY nice.