Melbourne
I just realised I had not done this post of my trip to Melbourne recently – a very cold Melbourne it must be stated as it was mid-Winter. But still how lovely to get back. No The Semi-Naked Chef this time, as this was purely for a work. A very intense trip with early starts and late finishes for 5 days in the week. But because I knew our old stomping ground when I lived there with my
Nina
and
Ollie
_ did have the chance to take a few walks rather than taxis – and here are a few snaps of those walks through one of the very best cities in the world in my reckoning.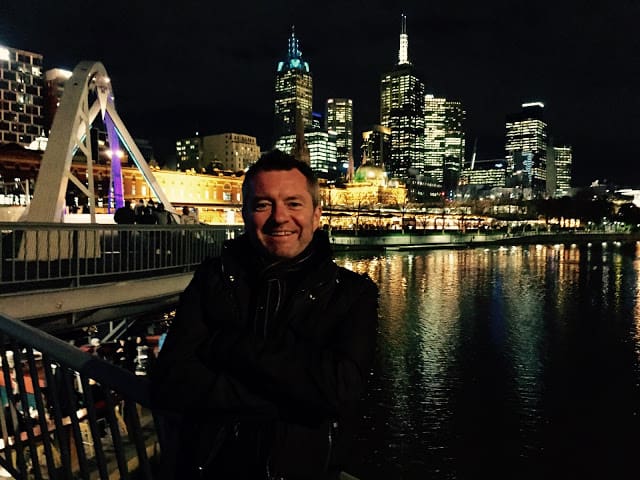 Here she is at night – now ain't that a pretty city folks!!!
Who needs a Bridge and what looks like a cut mango??? You know what I mean!!!
Here is the official tourism site for
Melbourne
, but of course you could always ask me too.
Just make sure whenever you visit that you bring layers…
Known as "Four Seasons In One Day", Melbourne has a habit of sneaking up on you with weird weather, and yes potentially all in one day. In fact our very first day in Melbourne was like that. We started walking to the CBD in shorts and t-shirt, 200 yards later we get hail-stones and have to run back to get coats and jeans, then sunny, then pouring with extreme wind rain. Yep you gotta love Melbourne and it's weather.
Winter is July and hits circa 4 degrees with a wind chill to freeze your nuts. So we used to have a 2nd Christmas in July as expats to enjoy the cold weather.
Summer is in December so outdoor BBQ's roasting chickens with all the trimmings, with a wilting conifer just not able to handle the 42 degree heat. I know how that feels.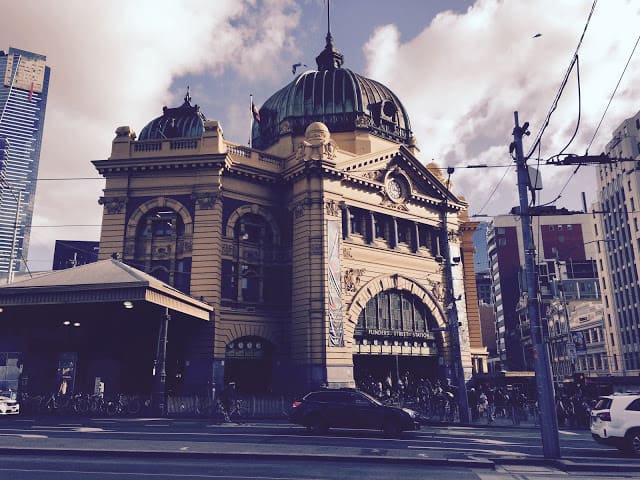 Meet you under the clocks?
A tradition of Melbourne, when meeting mates in the CBD (Central Business District), is to meet them at Flinders Station – the main station of Melbourne City. A truly wonderful piece of architecture as you can see. But see the main entrance, the larger arch, with 9 or so clocks showing different time zones, and the huge amount of people milling about. Yep, that is the evidence of: "I'll meet you under the clocks…" Directly opposite is one of my old frequented drinking halls (pub) – Young & Jackson.
Transport in Federation Square
One of Nina and I most frequented bar/restaurants in Melbourne when we first arrived. We were always here. A spit from our services apartment on Flinders Lane. We went here for a beer on our first day and fell in love with it. Ollie loved it too. Family friend, nice food, near the river ,near home, just off the main tram-line. Yes this is a cool place to visit.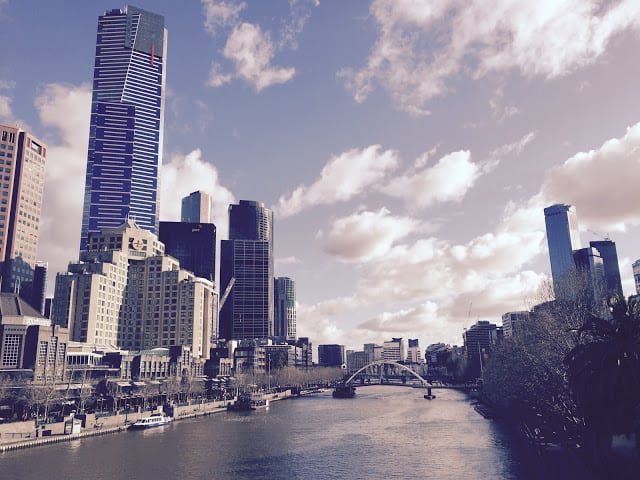 Southbank – the opposite side to the CBD
Here is the Yarra Rover running through the heart of the city. To your right = CBD and to your left = Southbank. Southbank has grown with bars, restaurants, the Sunday market, hotels and of course the Casino. Its a damn funky place to sit in the sun and people watch. Kids can go crazy on bikes and scooters as Mum and Dad sit with a glass of wine chatting with mates, maybe over a nice breakfast or lunch (as we often did). Plus you can catch tour boat rides – see the one to the bottom left.
In fact our very first day time in Melbourne was a Sunday and there was the farmers market all the way down Southbank from the very bridge I am standing on. We walked down there sampling produce and sipping wines – and the lovely people of Melbourne heard the accent, asked how long in the city? "Our first day is today…" And away with walked with Ollie's push-chair brimming with free gifts, including about 8 bottles of wine. Man I love this city!!!
You just gotta get city skylines with trams…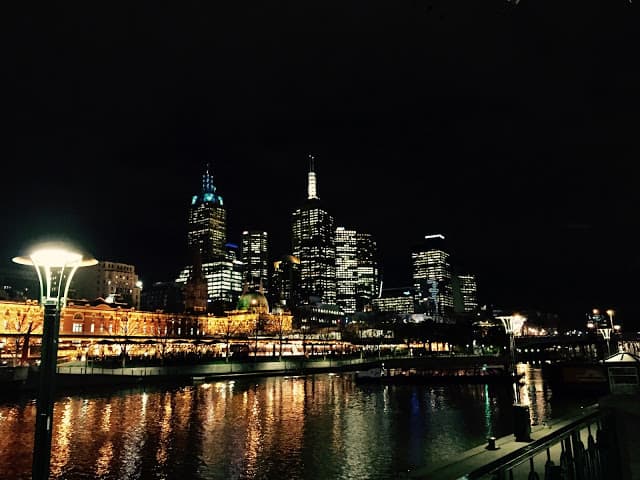 Such a beautiful city. Now minus the freezing Pom, from Singapore. A much nicer view.

Many friends here too – our great mates Craig, and Katherine and Di and Mario – and their gorgeous kids. Miss you massively too guys, and so sorry again for no pop to say hi. It was an intense few work days with absolutely no time to visit sadly.

Plus a quick 'plug' – if you do come to Melbourne, take the tram on Flinders and head to Richmond – great shopping and food by the way on Bridge Road there. And whilst there go visit Dia and Mario at the truly amazing and wonderful Bendigo Street Milk Bar – you simply have to try it. Its is 15 minutes from the city, and a great way to meet lovely lovely people and see suburb living within Melbourne. Oh yeah = also happens to be where we lived our 4 years there.
Boom….
And my final one – is again Southbank at night. About every 30 minutes or so you hear this noise. Almost like when you flush the toilet on an aeroplane (sorry only way I could think to describe it). What is it? Well it is these towers, about 8 of them down the Southbank. WOOF!!!! Huge fireballs go off into the night sky. It is truly impressive. Always a good memory of nights at Southbank.
So come on get yourself to Melbourne. Admittedly The Semi-Naked Chef was really not out this time, as he was in a suit working, and also did not get chance to sample the amazing food. But I could not visit without posting something about our beloved Melbourne.
You are missed – but we still love you.