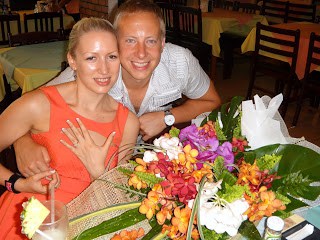 So Mr Kennett junior and his lovely girlfriend Claire come to visit. We have an AMAZING time together, Thailand, Malaysia, Universal Studios, Gardens by the Bay, LegoLand, nights out, time with the kids, just general time together and fun fun fun!
BUT!!!!!
Whilst we were in Thailand to the most amazing surprise of us all, and I am certain especially to Claire. The BUGGER pops the question on a beach in Thailand and blow me they're engaged and I am getting a new Sister. Go figure.
You should hear the lengths he has gone to to keep secret and make it a VERY special occasion at one of the most beautiful places in the world for such an important event!
DK you amazed us all, the covert nature is befitting on espionage and special forces matey. Blew me away completely.
So Claire welcome to the family even more Sis, and now true Aunty (not in Singapore terminology as that would make you an old lady that makes the tea!)
Love you both, and no more surprises DK – that was a near heart-attack.
Love you guys.