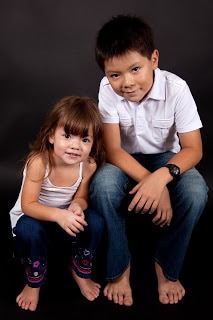 A sad day today, but also a good day.
Amy has successfully taken the step to a big girl's bed and so we said goodbye to her cot – literally just now a lovely lady from the condo who is 5 months pregnant took it off our hands.
Her little walker toys, baby clothes, ride on zebra, travel cot as well all sold on the notice board. So many memories going with them as they leave the condo.
But we needed the space and she now has a little stash of her own money to spend when she's ready for the purchased items.
And then today there she is sat painting her nails and messing around with false nails, even sticking them on me – ha ha! Not so pretty as you Amy.
We did the Skype session with England for about an hour and we couldn't keep you off the camera, chatting, singing, alphabet songs, playing about with Uncle Darren – making everyone laugh.
You've grown so so fast this past year or so, a really maturing, funny and desperately beautiful girl – but you're still my little baby and I love you so much. Mummy would indeed be so proud of you Amy, and what you have achieved. I know I absolutely am, and so is Mary and Ollie and of course your family from around the world.
And then of course there is by little/big man Ollie. Soon to be attending year 5 in school, another teacher for him, another year flashed past. Mature indeed you are Ollie, funny indeed you are although sometimes Uncle Darren and those joke books he bought you has a lot to answer for – GROAN! Riding your bike with me the other day was lovely, I knew you'd be fine on that, and thank you Mary for helping and giving you advice when Amy is at school. Like a speeding train you were, and actually quite a long trip all the way from Siglap to home along East Coast, just lovely! Your new acting sessions start soon as well, this time not on stage but on film, and I love the fact that we can chat about decisions and you chose this over football for this year. I think you'll be amazing as you were in "A Few Good Kids".
Well just a quick note today about the munchins, or nearly not munchins anymore! Sad! We're off to fireworks this evening for Singapore National Day, hopefully at the gold club again with amazing views of the city, some Japanese food and fireworks – woo hoo! Kids are excited re that one! Much Love Bri