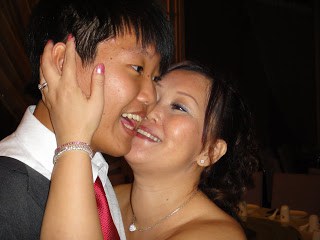 SO here we are the "other" Royal Wedding of Barrie and Bing Bing on 30th April 2011. In fact I should add, the #1 wedding of two for Barrie and Bing Bing as in June we're all off to Bali for the second one, and staying on a little later so I can celebrate my birthday there as well.
A FANTASTIC evening and night at a little known place along East Coast.
Yes I was best man, and up to 10am on 30th thought all I was doing was taking a passport and signing the registrar – hope Mr Steele came up trumps and ask that I do a best man's speech – bless him, ha ha!
Well I think all went well in the end. The audience laughed at the right points and not just at me, ha ha!
So a massive thank you to Barrie and Bing Bing for making us part of your day and part of the family. It truly was a great night and Bing, well my love you looked stunning and you should be VERY proud of your son! Some beautiful photos to follow. Can't wait til June guys!
I am also trying to work out how to attach the video Mary did of the speech – let me keep trying, but here's the photos for now.