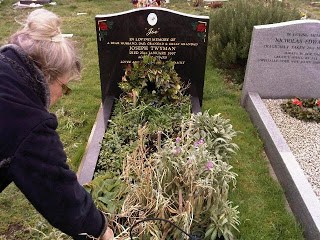 And then I suppose here is the
"other side", the stones that now stand to represent two people I love, loved and miss desperately – Nina and my Grandfather Joe.
It was such a strange feeling to be stood there seeing Nina for the first time since April (despite still having some of her at home as explained earlier in previous Blogs), but is it seeing her? I was standing there with brother and friends and stared and stared but did not get it, this is a piece of stone I was thinking, she's in my heart not carved on here. But still it is so very important to have this stone, this reminder, this place to stand, this place to gather with friends and for that I am happy to have seen it and seen it with those that I also love and loved her.
The same goes for my Joe Joe too, so lovely to have time for Mum to pop me up to Margate cemetery to say Hi to him too. Cold cold cold though Joe. not good weather for the allotment this. Dear me!! But even so you can notice some beautiful flowers there on his grave, I tell this buddhism/shinto has some merit the more you think of it.