Now please don't accuse me of bad parenting here.
For Amy's 7th we had;
In-laws over from Japan for amazing get togethers and meals;
Loads of presents from overseas family and friends;
Too many for her, but thanks so much – something I now must fix with the rest that is now cluttering her room from days of old – 3, 4, 5 year old presents;
Trips to ballet;
Japanese meals;
Universal Studios; and
Linking all of the above to Mary's son's birthday a week later than Amy's.
So this year friends, family & Amy – no official birthday party.
I think we did so so much already to celebrate the amazing date now past.
So here is a taster of the yet more fun we had after the event of the actual birthdays.
Not many snaps as our Jimboy is a tad of the shy-side shall we say – but I think, and hope he has had some fun with us, and of course spending some lovely quality time with Mum.
Little Jude having a wee dance in front of the mirror ha ha. Weekend about to start it seems.
We went large for the ballet at Esplanade. Hey why not – a wonderful Daddy Daughter Day. Getting dressed up with one of the most very special women in my life.
I think we look damn good.
Funny thing was Amy had this dress out on the day of her birthday until the ballet on Saturday ha ha.
Yes she was VERY keen to have her present.
And I have to say what a absolutely amazing experience – seen some ballets in my time, and this was a stand-out.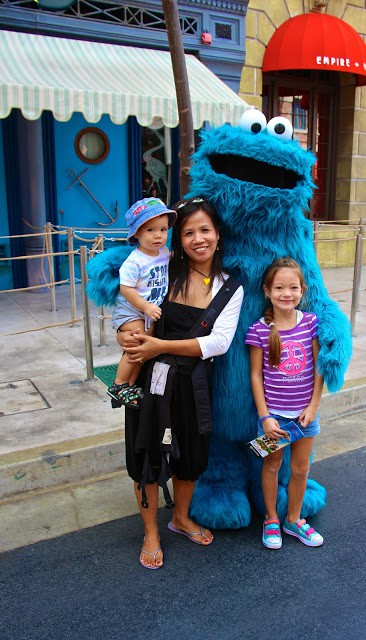 Off to Universal today – bit of an additional birthday treat for Amy, and a big one for Jimboy. I think they both had a ball. Of course accompanied by Mary, Jude and Ollie – and my very good friend's son, Ben. Lovely lad – Trevor you should be very proud mate. But have to say was rather funny when 13 year Ollie was stood next to 17 year old Ben. Who could have got away with ordering a pint and getting away with it – ha ha!!! Great to have you with us today Ben, thanks for coming.

Sadly no pictures of my today. Unless you think the big fat hairy thing above is me…
No need for anyone to answer that!!!
I love this one as the green character from Sesame Street is called Oscar.
For some of my close family they will know that my Grandad used to call Oliver, Oscar in his latter years and the mind was not so 'straight'. Great memories – so I demanded Ollie sit in this s one with Mary and Jude. Jude loved this character too as you can see from his face and the fact that he is holding Oscar's tongue ha ha.

Also you'll see Ollie's leg is MASSIVELY on the mend. Patch off today to let the air get to it. Drugs over. Stitches out.
So all hopefully a bad memory, but one that mays stop him doing it again!
Now Amy was able to ride all the open rides today – lucky growth spurt there.
But poor baby Jude was very limited and sadly so therefore was Mary. We did a couple of swops, but…
So here is one such ride where all the guys (except Ollie and Ben who were off doing their own thang!!!)
Very nice Jimboy – maybe even a little smile coming out there matey???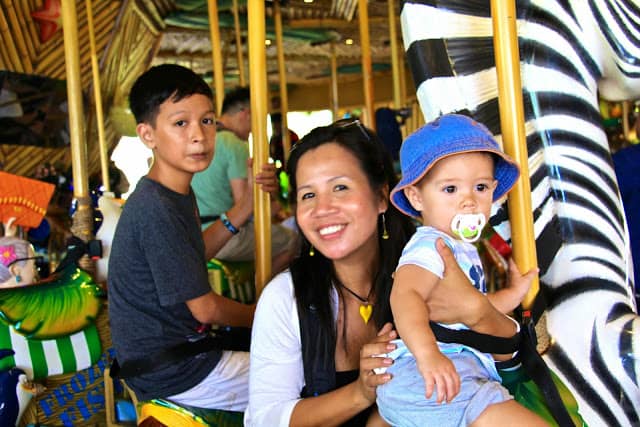 Ah OK Jimboy must have been wind.
Come on your Mum and Brother were all smiles ha ha.
I know you had fun though pal – as I saw you chatting to your Mum with A HUGE GRIN on your face many times today.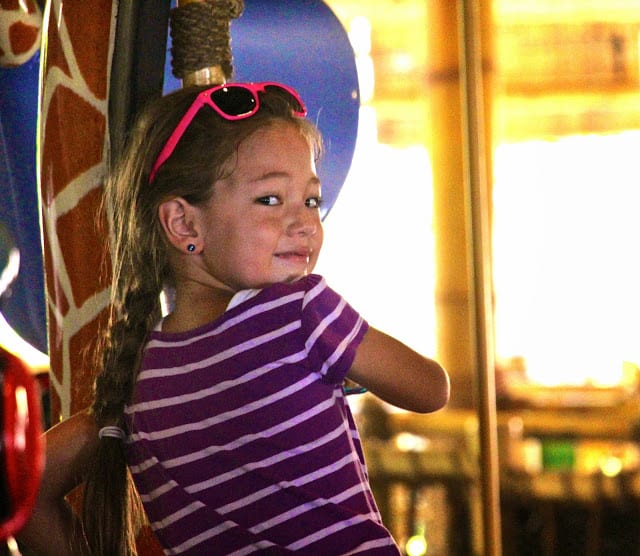 Last but not least – little Amy having a blast on the tallest animal on the merry-go-round.
I actually sat next to her on this ride to save standing up after taking a few snaps.
Like this ride – takes you back some years!

Just gong round and round, with no real sense of purpose or energy output.
Sounds like some of my old careers to be honest!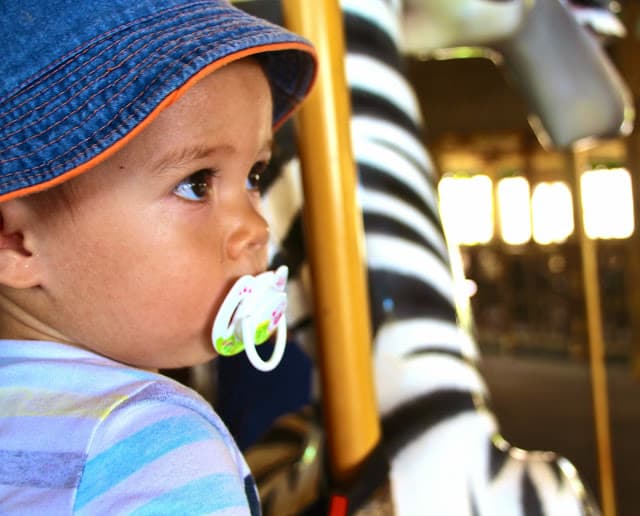 And final one for the day is Baby Jude – all a bit phased out today.
But dancing man oh man – he and his sister put in some dance miles today.
Maybe just a little tired then mate.
Hope you have fun too!!!