Wow a busy one.
I take Amy to school wearing shorts, t-shirt, tattoos showing, thongs and maybe a slight hint of Australian accent. Ms Pat approaches me and explains that she's teaching the kids re balance and surfing, then asks; "Could you come in and present to the kids on surfing?"
I'm like; "Eh, sorry I have no idea how to surf, and never have surfed – sorry!"
Ms Pat; "So sorry I just assumed!" Type thing.
Ha Ha – so Mary and I deliberated and we thought, hey why not. So I did it. I had to visit Amy's class and became teacher for an hour. I loved it, and I think the kids did too. How cute.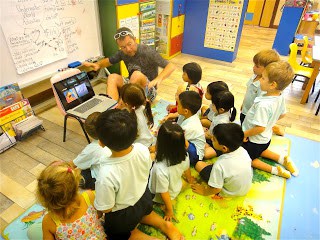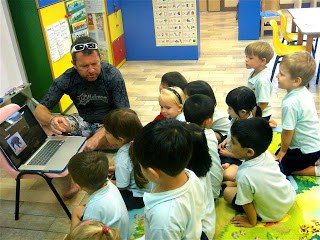 I did sort of quiz for them to make it interesting and engaging, using the lap-top to present to them.
We had this wobbly platform to get them balancing and pretending to be surfers, whilst on the lap top I had surfing videos and rock music playing to get the kids in the zone and balancing like real surfers.
Amy was pretty damn good it has to be said.
Even Ms Pat, Amy's teacher, had a go.
They even sang me a lovely lovely song afterwards to say thanks.
I think Amy was quite proud of her Dad coming in to school to teach, ha ha. Check out her moves.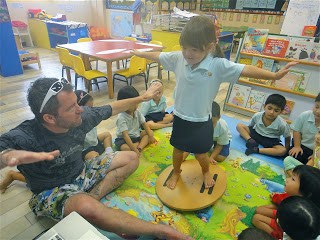 Bless Dev, we really like him. Ollie's mate from school and within the condo. So I promised him and the kids a trip to Universal, yep another one. What a blast we had, although heavy rain stopped play about 5pm, but despite that we had a lovely day with him. Even Uncle Gordon and Aunty Thes came along too.
Trying to do some different photos here, but some same old same-o of course – yep the Far Far Away Castle, again – this time + Dev though.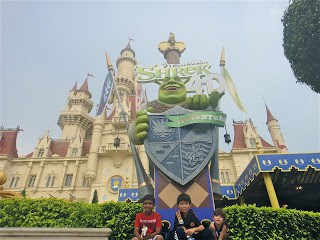 But love these with Puss-in-boots. These are lovely.
Here's one of me and Puss trying to do the "big eyes" look from the film.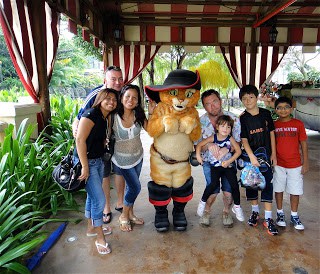 Amy and I even managed to get puss-in-boots "shuffling – classic!
We go to one of Amy's favorites – Donkey Live. Which is a virtual/cartoon character type show of Donkey singing in his night club. Somehow this cartoon interacts with the audience, can see you and actually has lip sync to whatever the actor playing Donkey is saying. It's amazing. Amy loves it because you can sometimes actually get to speak to Donkey – today was a good day for that!
So I get pulled in the audience by Donkey, saying who is the man in the second row sat behind the little girl, he looks like Prince Charles. The Amy starts saying hello donkey and gets pulled out in front of the whole audience and speaks 121 with Donkey assisted by Raoul the assistant for the show. It goes like this;
Donkey; "what's your name?"
Amy; "Amy."
Donkey; "how old are you?"
Amy; "Three."
Donkey; "Are you married?"
Amy; "No!"
Donkey; "Do you have a job?"
Amy; "Yes!"
Donkey; "Where do you work?"
Amy; "Japan!"
Donkey then asked a loaded question (the answer should have been Donkey of course!); "What's the best thing at you have seen at Universal today?"
Amy; "My teacher's name is Ms Pat."
Donkey; "OK let's re-ask that question. What is your favorite thing in Universal Studios today?"
Amy; "I like dragon roller-coaster!"
Donkey; "OK this is the 3rd try. Amy what is your favorite thing in Universal Studio that is maybe something with 4 legs, that is grey, that has long ears?"
Amy; "Donkey!"
Huge applause and laughing of course (I was actually looking at her and pointing at Donkey to help her – ha ha!)
Donkey finished with; "I think we have a new show in the making, called Amy Live!"
We also had Dev having to shout "5,6,7,8!" to start Donkey's finale song.
Even when finished and the curtains were down Donkey was still shouting out goodbye to Amy, an absolute classic Amy, you had everyone in fits of laughter – well done. Just a shame no photos are allowed in there.
"I love you Donkey!" – says Amy.
"We love you Donkey!" – says Amy, Ollie and Dev.