My great mate, that I just happened to be with last week in UK whilst on holiday, popped me an SMS.
Thanks Brownie.
Guess why?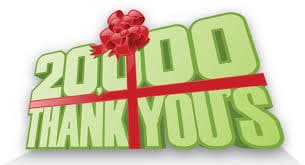 Yes – TWENTY THOUSAND PLUS views now of my blog.
It is just amazing to think back to when I started this – sad times.
Now to family times, and fun times.
You guys keep on reading, and that in turn gives me the energy and enthusiasm to keep on writing and sharing.
Thank you so VERY much – it means so very much to me.
I love you all – Bri