OK OK I know some will love and some will hate this one.
Also slightly out of order or proceedings of our London trip – but it's a 'quickie'.
I am reaching a back-log of the UK trip as we did so much and therefore so much to share.
We went to show Ollie Stamford Bridge as he wanted to show his mates some photos when he got back. Amy decided she wanted to come too.
So off from Putney on the No.14 bus to Fulham Road. Oh yes Chelsea boys and girls you know it sooooo well Chelsea is on FULHAM ROAD, ha ha!
Anyways we got there, visited the shop and had a wander round. I noticed stadium tours at 1100am and it was about 1050. Ask the lady; "Of course you can join says she". So off we went – please enjoy our Chelsea stadium tour!
To my Chelsea mates enjoy and to any Mancs/Yids/Gooners f*ck off – ha ha!
We live there – HAVE IT!!!
My munchkins pitch-side – stunned silence as we walked there.
It is indeed quite awe inspiring!
Ollie below soaking it up – Chelsea lanyard round his neck! Oh yes – ha ha!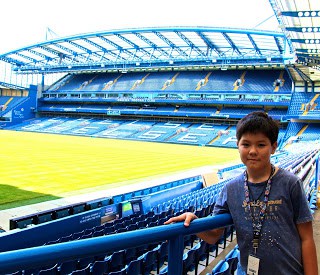 Not 100% certain but I think Amy may have just farted.
One way to get some space around you in the stadium!
Off to the press room.
A new signing…?
"So why did you sign that Spanish idiot from Liverpool???"
Stunned silence from the manager!!!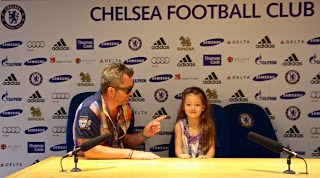 Well it's a game of two halves Ollie.
That's all I can say.
That and it combines a half of 45 minutes, a break, then another 45 minutes, all of which combined has the makings of a great game.
Or as Chris Kamara once said; "It's so daft, it's almost stupid!"
Amy just smiles and waves when Ollie asks her to explain the off-side rule.
Nice one Amy-Boo.
Off to the changing rooms.
Not sure re that smile Amy.
Was it smelly in there?
The new signing for Chelsea takes his first step on to the pitch, touching the badge for good luck.
Clearly not a signing for central defence.
Maybe Michael Owen could even reach this (if there).
Go on Ollie take the cheers!!!
Comfy seats but not where I'd like to be.
Get me on the green stuff Boss please!!!
Don't care if these are Audi heated leather seats or not!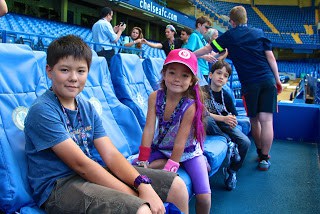 Manager to assistant;
"You can tell that referee he's a f*cking tw*t who needs f*cking glasses."
"This is absolutely a Paul Smith shirt I'm wearing!"
"F*cking d*ckhead!"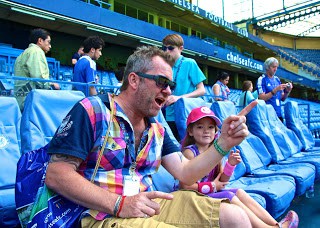 Now is it just me.
Is it reverse phsycology?
BUT…
Why would you have a sign RIGHT IN FRONT OF THE DUG OUT stating;
"It is an offence to go on to the pitch."
Is it just me???
It is pretty impressive is it not.
Even when your guide is Elvis (yep his real name) – or WAIT A MINUTE – David Seaman!!!
And the result is…
Clearly a convert to the Chelsea Rainbow Team.