OK here we go – some snaps of Happy New Year celebrations.
Did we go up market – No.
Did we spend a fortune – No.
Did we fine dine – No.
Did we have champagne – No.
Did we have massive fun with great friends – YES.
Down to East Coast Lagoon hawker we went. After a shaky start getting a table we were soon settled and had an absolute blast. Great friends, great fun, great food and of course a few adult beverages to wash it all down – but at $7 for a pint and half you can't go wrong hey.
Yo should have seen Coatsey when he put his wig on.
Nice glasses Baby Jude.
See how packed this place was tonight – even after having laid out extra seating.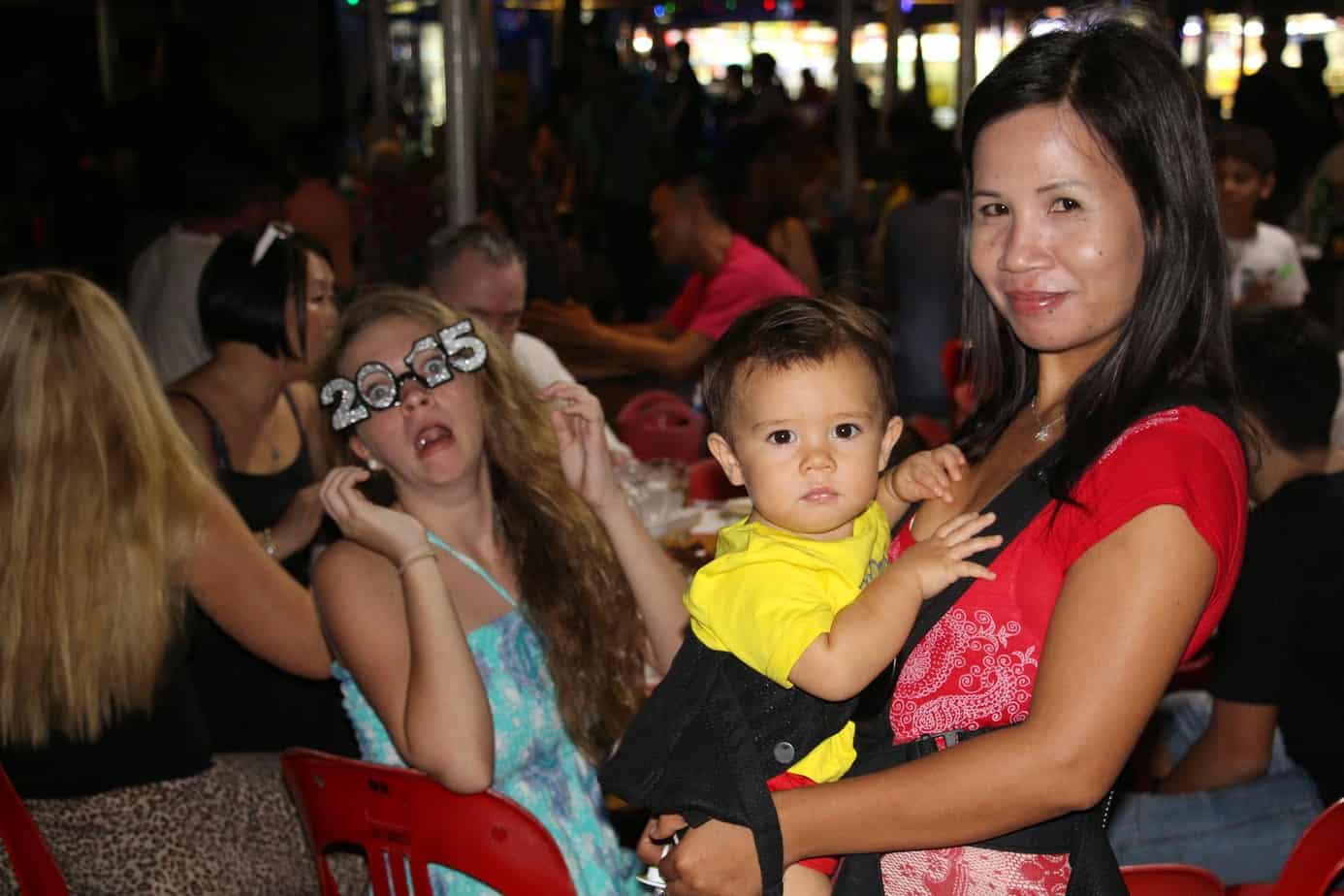 Nice one of my Mary and Baby Jude – but god only knows what Freya is up to, ha ha.
Clearly not her good side, ha ha!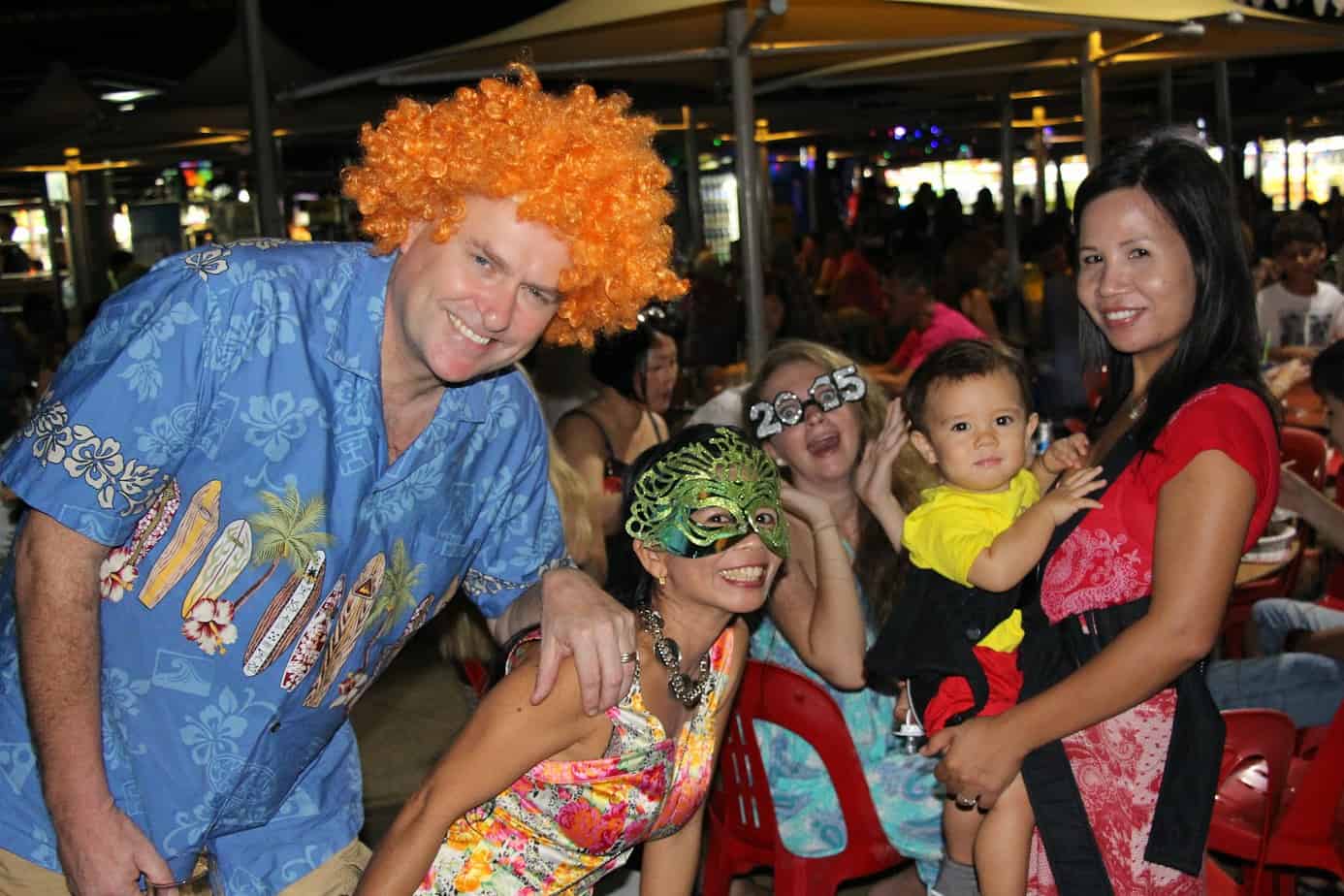 Everyone still awake at this point.
Happy Happy Happy.
Even the Blowers came down – so we pulled the tables together and hey presto our party got even bigger.
Happy New Year to Baby Jude and my Mary.
Let's clear up some of those loose ends in 2015 babes!!!
What was that film name, er, hmmm, oh come on Brian.
Ah ha, I know it's "Beauty and the Beast" he he!!!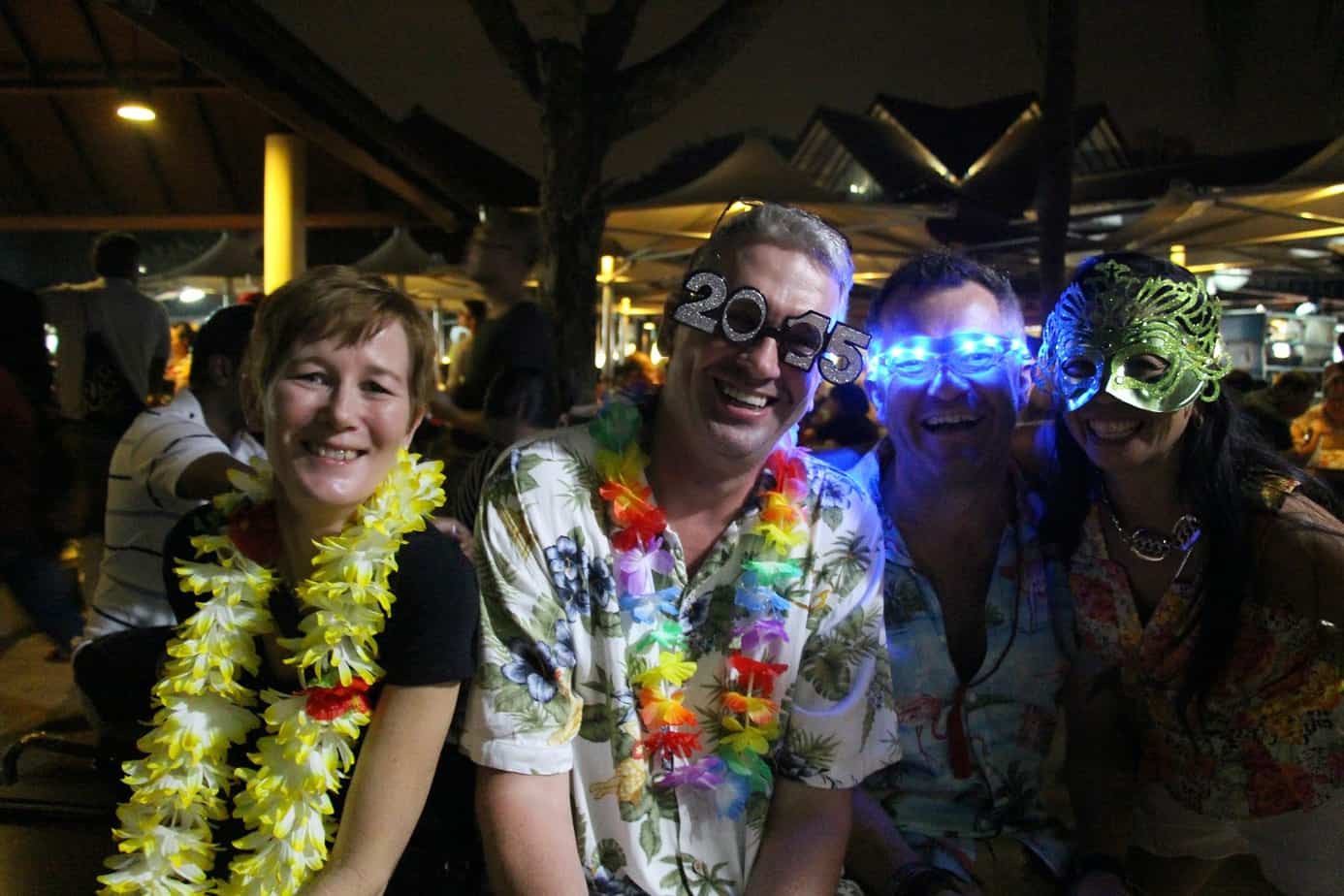 Interesting garb all round, I'm sure you'll agree.
Nicely done Ollie, classy matey!
Our neighbours and our great great mates – The Rutherford's.
Happy New Year my lovelies.
My beautiful not so baby girl now.
Glow sticks in hand.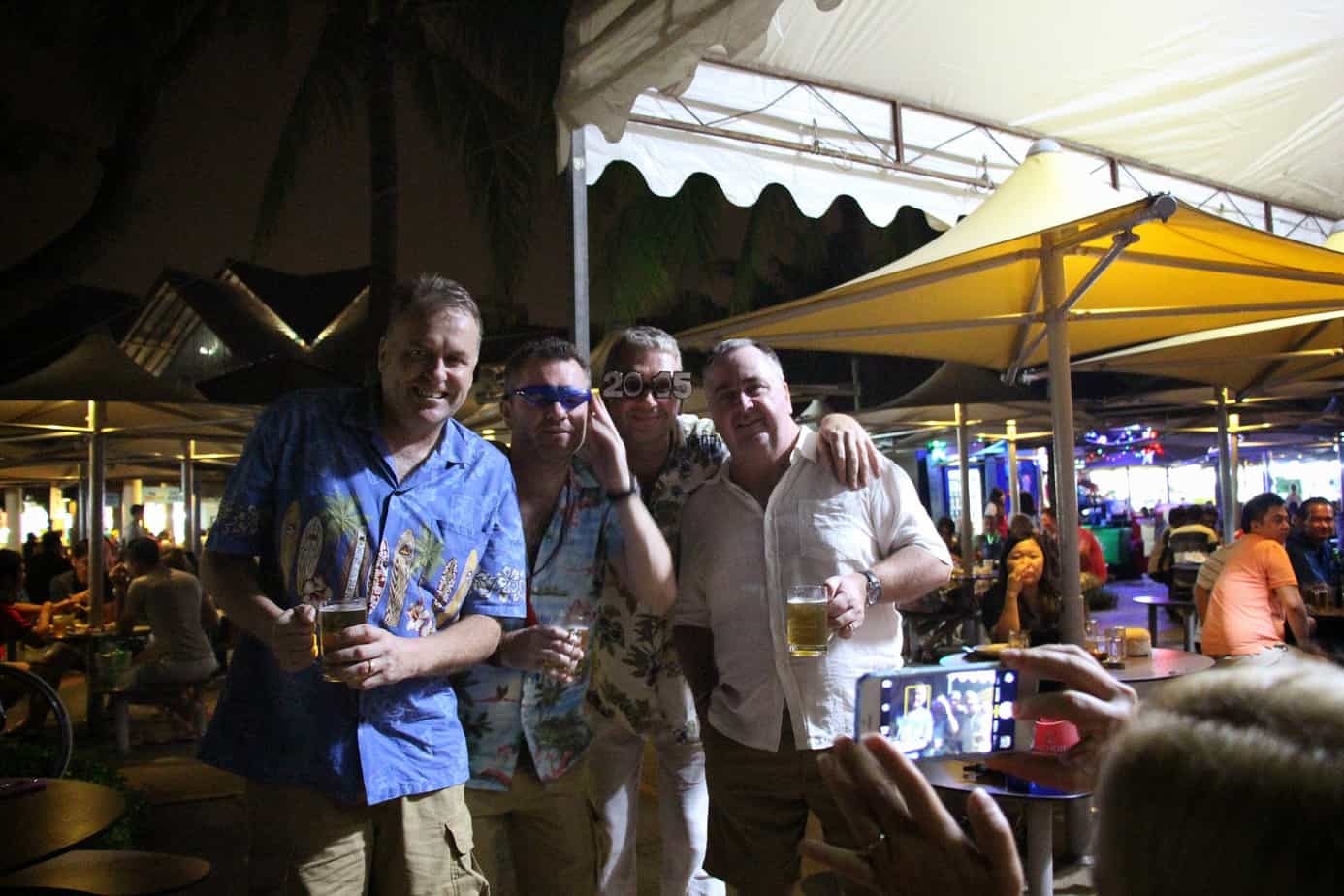 Clearly Barrie did not get the memo re the shirt style.
Either that or he boil washed his Hawaiin till the pattern came out.
Your truly with a load of birds all over him.
Ha Ha.
But only one special on in his arms.
The elders together.
Was tricky getting them to stand so close to each other for so long.
Teenage thing I am assuming ha ha.
The Kennett clan – nearly midnight now.
Sophia and Glenda too.
Very nice photo indeed.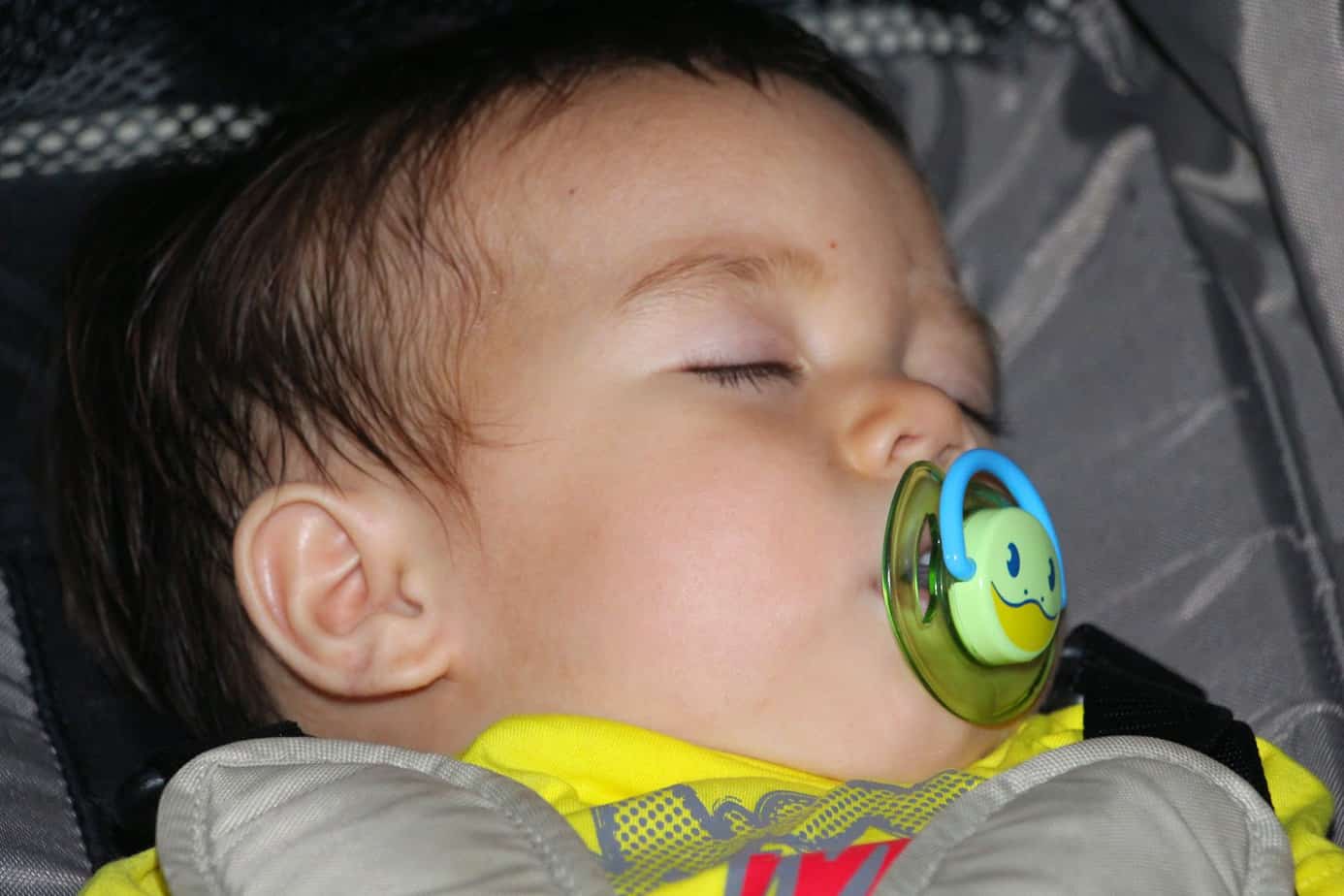 Man down, man down.
We have a casualty.
Bless him – he just faded at the end and had a lovely sleep.
Bless.
Quality shot of the Bazzer with the beautiful Freya.
Hoping Barrie does NOT have matching collar and cuffs.
Off to the beach now, you'll see why in a second.
Notice no Amy with us.
Yep she went off somewhere without us as the clock struck midnight – hmmmm.
It's midnight.
No fireworks, but all the ships let of flares.
You know it was kind of magical.
What a great New Year's eve celebration – top drawer.
A great end to 2014, and a wonderful start to 2015.

Wishing all our family and friends all over the world a truly happy 2015.
Much love from us, yep the Kennett's