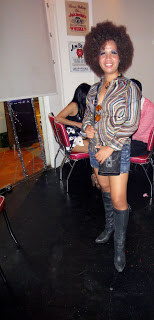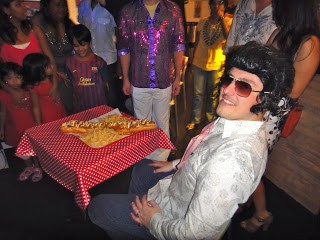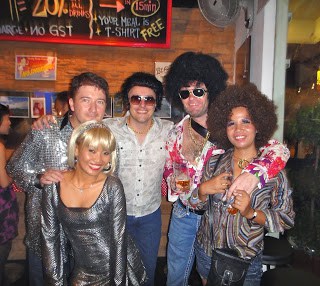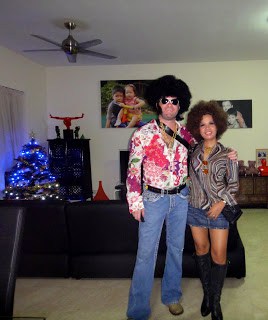 Mr Rainey turned a new age and decided I'll have a party, a themed party, a 70's themed party.
And here are the results, dear me!
Funny thing is Mary loved it, loved the outfit, loved the hair, loved the eye lashes, loved the boots etc etc.
Pretty amazing bearing in mind nocked up in a matter of minutes at Kallang fancy dress. Our theme was "Starsky & Crutch", oh my goodness. A few things:
* I thought I was going to get shot by secret police of Singapore as I was carrying a gun,
* No one knew it was us, walked in and had to introduce ourselves to people who knew us,
* We also had lunar eclipse experience, amazing to see from Apac not daytime UK,
* We had VERY interesting taxi rides, as you'd imagine,
* Mary absolutely LOVED the experience, I just wanted to get her home and keep the wig and boots on, ha ha,
* The party was at a 7 days old bar, happy birthday Wheels and Wieners, we had a blast!
* David had to eat a 15″, yes 15″ hot dog, with chips and chili in 15 minutes,
* We met some lovely lovely new friends, thanks to the party!
* At midnight it turned in to Mary's birthday as well, happy birthday beautiful!
Happy Birthday Mr Rainey!!!!!!!!