As I said in Marlon's blog, I have not done this for a while re showing some of the surrounding scenery, so be atop the flier is a perfect way to do that!
Here's a pretty artsy, filtered snap from the 1st floor, we're about to "board" our pod and start the hour long revolution of the world's largest viewing platform big wheel type thing.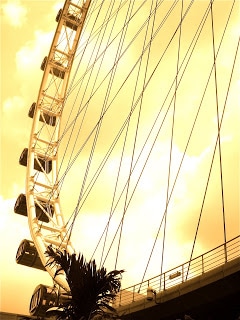 My plan is to walk you through each picture and give some back ground/history/future. Singapore is an amazing place for this type of development, it is constantly re-inventing itself. Just check the skyline for cranes.
I keep asking my brother to come here as he is a Civil Engineer, much needed in Singapore! I guarantee if I do this again in a year and take photos at the same timings of the 360 revolution you won't recognise a thing as so much will have changed/adapted/been added.
Picture #1 above is looking immediately below at the Singapore F1 pit lane, and therefore race start and finish points. Just beyond it you can see a large road on stilts going over the river, that is the ECP that comes from airport to city centre, the main road. And right in the middle, peaking above the bridge part of the ECP is our condo, condo Kennett or Costa Rhu. Like little orange mushrooms.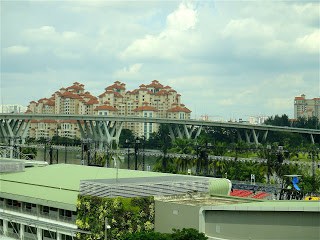 Picture #2, is a close up of the same. Bottom right you'll start to see some of the F1 stands along the start and home straight, the red seats. These are primo locations, reaching about 1500 SGD per seat when the race is on. Look across the river and you'll see how close our condo is to this action, and during the race weekend the noise is just amazing. Because Costa Rhu is a circle of building with pools and the like in the middle it acts like an amphitheatre echoing the noise around. Believe me it is LOUD!
Picture #3 is showing you our new development where you have seen the kids on bikes and scooters racing each other. This literally used to be jungle, and when they cut the jungle down we had all sorts in the condo as we are 5 minutes from this. When I say all sorts, I mean monkeys and snakes, dear me. This is called Gardens on the Bay, and is a series of beautiful landscaped gardens to walk through, picnic etc. It's really beautiful, and if there and you look back across the river you get amazing views of the city landscape as well.
Also can you see bottom right the little craft that looks like a boat? That is actually an amphibious vehicle that does tours of the city and the literally drives in to the water and cruises around various tourist spots. Pretty cool, although I have never done this. Mum has and says it was really good although very noisy and smelly as the engine is on the deck. It's affectionately called "Duck Tours".
We hear eventually that from the Gardens on the Bay we will be able to get boat taxis in to the city, which will be ace. Take a look at the next picture.
Picture #4 show much more of the F1 seating gantries and the actual track, plus across the river see the 4 gang-planks near the bridge and near out condo. Yep they are the taxi ramps, on and off. So you can see now, we literally walk from condo, jump on river taxi and 5-10 minutes later we're in the city with no need to use roads. Cool!
Also we have the new sports stadium being erected behind our condo, that includes marinas and all that for the water sports. All sounds amazing doesn't it. I am also expecting an "amazing" rental bill for the condo once all completed, we shall see!
Picture #5 is the other side of the river now. So here you can see the Marina Bay Gardens, again a brand new development. Also this is cool fact, ALL this is reclaimed land. The dome type things are flower gardens that also act as a desalination plant.
The taller building is quite famous now and is the Marina Bay Sands Hotel & Casino. The hotel design is pretty funky, although I refuse to enter the place due to the first experience we had of it. Service was shocking, so sorry I am embargoing it! But architecture is that the three towers are packs of cards being shuffled/ruffled, you can just make that out. The boat thing on top signifies that historically it was illegal to gamble here in Singapore, so you had to catch a ferry to Indonesia, catch another ferry to a converted cruise liner sat in international waters, that was the casino. We hear the Singaporean government realised how much tax they were losing through not have gambling and hey presto it became "legal", ha ha! Now we have two casinos, and locals/PR's have to pay 100SGD to just walk in the place before they have even put a dollar on a table. Marina Bay Sands is reputed now to be the most profitable casino Globally. So sorry the boat on top is to remind people how they used to have to go to gamble before the hotel was built! Nice one Singapore.
Next will be big nappies on toilet blocks to remind you how used to go before??
Picture #6 shows the old post office, which is now the Fullerton Hotel, very nice place! Lovely brunches, great bar call Post Bar etc etc. Plus right behind it you can see the red roof tops of Boat Quay the tourist and popular ex-pat area for after work drinkies – never been there myself (cough cough!) Interesting is that everything this was from Fullerton is reclaimed, that literally was the coastline of Singapore originally. Fullerton have been branching out now as well, if you go left you can see Fullerton Bay which is lovely – see Sam's 40th photos for a view of that.
Also in this shot you can Altitude Bar, the tallest building rising up in the middle. Uber cool bar at top, with just breath-taking views of Singapore 360degrees. Again see Sam's 40th atop that.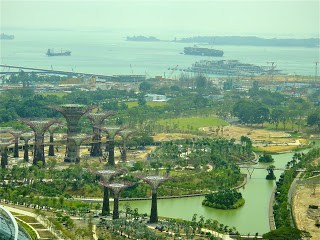 Picture #7 is a more detailed close up of Marina Bay Gardens. This is also cool. See those mushroom looking things, well apparently they will be trees with canopies. You get a lift in the trunk, up to the canopy which are flower gardens. Amazing right! We drove past this recently and I have NEVER seen so many trees, plants, flowers awaiting planting, there were thousands upon thousands in row after row awaiting planting in to the gardens. Can't wait to see it – Mum/Nan/Yuko you'd love it!
Picture #8 – OK already explained, but a bit closer view for you. See what I mean about a pack of cards from the side being riffled/shuffled.
Picture #9, we right at the top here of the turning circle of the Flyer. Pretty high up and amazing scenery.
Picture #10 and the final one for this trip, is the city sky line. It's a very pretty city, especially at night. Lots of development of late down on the water front with Customs House, Fullerton Bay, Kinki's etc really nice place to visit and sit and stare, if later in evening looking back to Marina Bay Sands to watch the lazer show.
Well done Singapore! Ever changing, but ever changing for the better!