OK – more insight to family Kennett weekend, Singapore style.
Up early Saturday am to go shopping, Daddy got some bonus, so a treat was in order. We went to Vivo City about 9am to have breakfast (junk food – oh yeah baby) and to play on the roof top. Little known fact, if you don't have kids, is that there is a playground there and one floor above a sort of roof top paddling pool with great views of Sentosa. So that's what we did.
Here's the kids going crazy on these electric bikes, cool huh!
A brief "I love ice cream Daddy" moment from you know who.
What you'll see here is Ollie and Amy with two different backdrops from the same standing position. This one is with the Sentosa Resorts World hotels and casino across the water.
And this one with Universal Studios – can you make out the Battlestar Galactica ride in between the two buildings that look like white curly wurleys?
A very nice shot of Mary doing same, woo hoo, sexy lady!
And finally check this out. Old and new. See the tall ship in the foreground and the MONSTER cruise liner in the background. Incredible. Definitely some dignitary was visiting as all the crew of the old
were in best whites and standing to attention in line on deck.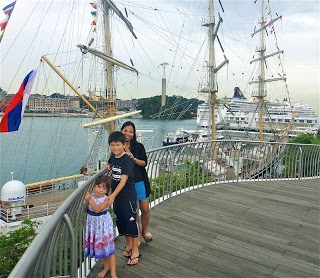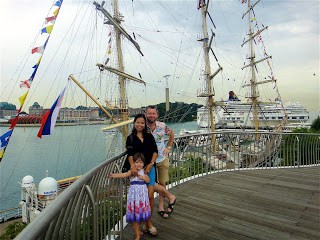 Then Sunday a sort of day of rest in the morning, chilling out at new shop centre, having the kids favorite Chinese food of steamed buns, dao miao, pork egg fried rice and the like – then dashing for football.
Kids first messing about on the pitch at half time, and shooting goals. Very well behaved.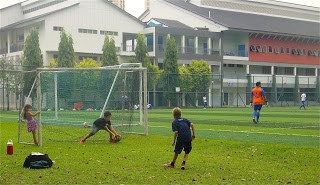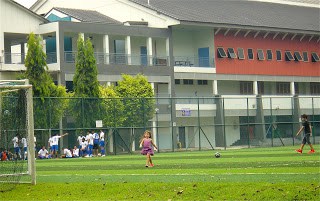 Then shouting "Go Daddy Go", when I was on the pitch and playing or the full game – ouch!!! We lost 5-2 unfortunately. We were holding our own with a 4-4-2, but changed to 3-5-2 and conceded 3 goals – damn! Should have stayed in same formation!!!!!!
Yep there is life in the old dog yet. I am in the white socks, blue shorts and red/white top – number 3.