Cloaked in secrecy was this years Eton House Christmas Concert 2011. Oliver had a part, but was sworn in, not to tell us anything. We had to provide a costume of white shorts or trousers and a red or white shirt. Interesting, but not really surprising I suppose as both are sort of Xmasy colours.
We knew he had been practicing hard.
We knew he came home with some white, silky, frilly shirt, with a red bow tie.
We knew we had to drop him off at 1745.
We knew we had to be in and seated by 1900 – the "hard" start time.
What we did not know was that he was the joint host/MC of the whole event. He opened by welcoming everyone, the teachers, and the event itself. Then after each class performance he had to "gap-fill" awaiting the next class performance to be readied. Doesn't he look smart? The only downer for him was, can you guess??????? Yep makeup!!!!!!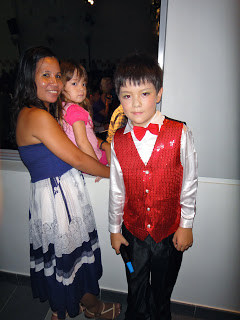 I asked him was it all scripted, to which he replied "no I had to ad lib", or as he called it "improv theatre." Amazing right, my 10 year old is talking about "improv theatre". He said that Sangeeta had recently taught them this at his acting workshop he attends every Saturday morning.
So basically picture this. A class exits the stage and he and Mehei (his co-host) come on and have to engage/distract the audience for 5 minutes or so. Many videos for this blog, as it's all about the delivery of Ollie and Mehei which you cannot see or appreciate in a still photograph.
It goes like this.
The opening and introductions;
He pulled people from the audience to ask them questions re their first Xmas. Not brilliant sound quality on the first video, but I wanted to show you that he was on stage, at floor level and in front of about 350 people and look him perform!
He came over to ask Amy a question, about her favorite toy. Just check out how he's interacting with the audience when she answered Barbie. By the way again ALL unrehearsed;
He was being funny when working with his audience, this little skit being a favorite of mine, when the gentleman was asked what he thought of the previous song, and guy said great or something. Ollie then came up with this funny funny sketch giving loads of other adjectives he could have used;
He was seriously entertaining, pushing himself to limits unseen. This bit of acting his hilarious when Mehei says we're about to see professional singers and he goes crazily excited because that might be Lady Gaga, Justin Bieber etc, So funny Ollie;
He even had to quickly take off shoes, and his waist coat, tie a red ribbon his head and be part of his class performance of Robbie Williams' "Angels".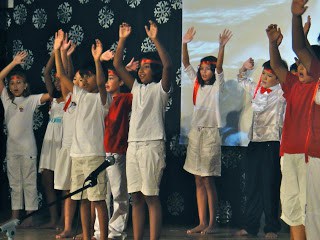 How does he remember all the lines, moves, sequencing and be able to then ad lib is beyond me, but he nailed it!
He was truly brilliant. Mary and I could not believe it, just brilliant. He had such confidence in front of so many people young and old, he commanded the audience, he truly engaged the audience.
He even had to announce car registration numbers that needed to move because they were blocking the way. And boy did he do that with authority!
So to the end of the concert, which really was great fun and the kids were just fantastic with the singing, the dancing and of course the really cool costumes. Mr Small, Principal gets up to thank the organisers, helpers etc. Whilst on stage he starts along the lines of; "And I have to say two people who need a special mention were those that had to engage the audience, command the audience, ensure smooth flowing of the concert. That is a really tough job for someone to do, but to have two children of 10 years old perform the task is exceptional." He then called Ollie and Mehei to the stage to rapturous applause and cheers.
It didn't stop there. Walking from the theatre we were stopped every 5 steps or so by someone wishing to say how wonderful he was and how he should be on stage or TV. Miss Atima his previous teacher had said that they were looking for an adult to do it but no one would, so she thought of Ollie and Mehei. They had to do a short audition and apparently the producer was sold immediately! That's how the job became theirs.
I don't know how many blogs I have now closed off with that proud Dad moment. But this is categorically one of them. Ollie you amazed so many people, made so many proud of what you achieved and how mature you were in your performance. I LOVED it and would watch you again and again, I am so proud of you Ollie – Love you Daddy xxx