Leaving Koh Lipe, & a WOW @ The Westin, Langkawi, Day #7 Kennett's Tour
A very, very sad day today. We have to leave Koh Lipe, bounce through Langkawi for one night and fly back back to Singapore. Monday is work, school and normality. Quite an abysmal thought. For me I have not worn shoes of any description, so on Monday to go socks, shoes, suit, shirt does not even bear thinking about. Here's the final blog folks, a little carry over for the final two days, but hey it is indeed – Leaving Koh Lipe, & a WOW @ The Westin, Langkawi, Day #7 Kennett's Tour.
We started early to get packed and empty the room. A rather quiet and tame breakfast followed, before we were collected on the Jeepnie at 0830 for departure to the beach for transport mode #2 for the day – a long-tail taxi. You take the long-tail to a floating pontoon to board your chosen speedboat back to Pak Baran on the mainland, Satun Province.
As usual the speedboat was delayed. They have this habit of stating it is a 1400 departure, and then delay and delay to try and fill the boat with Pax, rather than have any empty seats. Bloody annoying, especially if you have kids that get rather bored standing on a floating thing in the middle of the Andaman Sea. Anyways finally we are off. I do love these speedboats as they are extremely zoomy. I got us all to to the back, as Baby Jude was a little little sick on way To, so back is best with air, breeze and views.
The race is one. Like a modern day Ben Hur, these massive people carrier speedboats are speeding back and forth from Pak Bara to Koh Lipe and other islands. We beat this one at the last second to dock 1st.On the way we stopped once. I think something got caught in the propeller, but what lifted up all was clear. Funny as this also happened with the much larger ferry – more of that shortly below. Taxi Uncle, Mr Korex, was there to wait and usher us through after hour drive. Top bloke.
A couple of hours layover at Tammalang Pier, awaiting the ferry. Then BOOM a monster queue forms for immigration, and again they delay the departure to fill the bloody thing up. So eventually the 1400 ferry departure left at circa 1500. And then halfway across the Andaman Sea from Tammalang, Thailand, to Lankawi, Malaysia the engines cut our completely about 3 times. No explanation and no tannoy announcements. Just dead in the water, literally. And what happened that was quite scary, was that the strong currents got us and started to send the boat in to a spin. Spooky! But we made it in the end.
But then we arrive at Langkawi Ferry Terminal with about a million Thai workers, about to hit Malaysia. HUGE queues at immigration. But then this guy from nowhere approaches Mary. As she was carrying Jude she was allowed to the front, and to take Amy too. But Ollie and I had to stay in the queue. Bugger. So we agreed to see her on the other side in an hour so (best case), when she was frantically beckoning us to join her. Yep the immigration guy has noticed 5 Pax out, only 3 Pax returning.
"Where are the other 2?" said he.
"At the back of the queue." said Mary.
They need to be here with" you." said he.
BOOM – we saved an hour of queuing. LOVE you Baby Jude. Word of advice to any visiting – steal a child if you don't have one!!!
So the family is now in a taxi, massively patting ourselves on the back for that result. Not thinking things would turn, for the even better. Like an even better on steroids. We jump out at The Westin, for our 2nd stint this trip. One night only before we depart in the morning for two flights home back to Singapore. At the counter, all the staff are; "Hello Mr Kennett." "Welcome back Mr Kennett." "It was me that served you on your initial arrival Mr Kennett."
The out comes the Front Desk Manager, Wenzel Weinich. "Mr Kennett, thank you for coming back again, hope you have been enjoying your time with us. We'd like to offer you a gift, an upgrade you to a suite." I was completely gob-smacked. Was it the blogs? I am not sure. So we were escorted away but the lovely guy from front desk, Faiz, super helpful he was. We got to the end of this corridor to a double door, and there was me thinking this is the connecting door to the elevators. Oh no, the double doors were the entrance doors to RENEWAL SUITE.
To be honest you nearly had 5 Kennett's on the floor, out cold, when we walked in. It was surely one of those, WTF are you seriously giving us this for a night. "A gift?" So The Westin management and staff, what can I say on behalf of family Kennett, but the most sincere thank you. You put some VERY THICK icing on a wonderful cake, that was our vacation. What an end to a perfect holiday at The Westin, and our time in Koh Lipe. Two new islands for us, so it was a; "I wonder how this will be?" But, I tell you, it was incredible and we are already planning to be back in June 2018, a rather chunky birthday to be celebrated then!!! Watch this space, t would be so fantastic to come back and say thank you in person for this extra special treat. Still dumbfounded ha ha!!!
Enough of my gassing on about it. Let me show it off for you. Weeeeee! We stayed here!!! Ha Ha Ha!!! Pinch me!!!
And then we come to The Last Supper. We had to eat in the Westin ,we simply had to. And OMG what a last supper it was too. Massive rain storm and lightening caused the SeaFood Pool-Side BBQ Buffet to be brought inside to our favourite restaurant at The Westin here, Seasonal Tastes. It's a cracker. Major restaurant. So much variety, Asia, Western, Arabic and more. Just incredible. Clearly I was not getting in to the seafood BBQ so I went A-La-Carte, but the rest of the gang went en-piste with the buffet.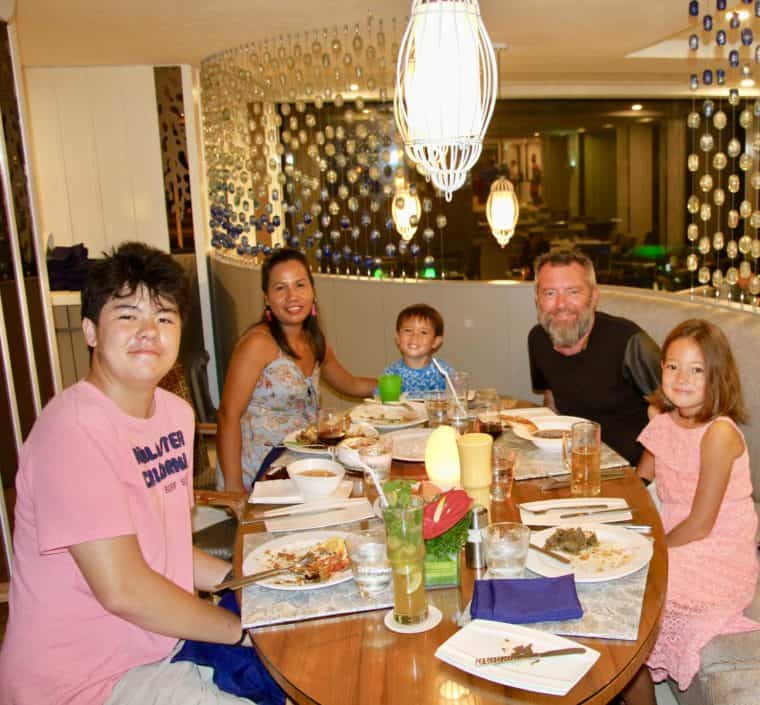 I think the faces say it all from family Kennett. We love this place, the people and the food. Sooooo good!
Now we get to the seafood buffet – I have to ask the guys now to help with this post-event, as during the consumption phase you could get nothing from them apart from chomping, chewing, slurping, sucking and oooohs and aaaahs. This got a big thumbs up from family Kennett, for the flavours and complete variety on offer tonight. Believe me, below is a sampling only!!!
They both called out, Ollie and Mary, the Grilled fish and Lamb Mandy as equally amazing, with the smoked salmon and corn salsa being a standout. The deserts were just crazy good (I also had the fortune to have some). To give some additional credibility to these statements, both Ollie and Amy had not touched their drinks until they reached desert. Normally they would be about 2-3 drinks in by that time. Be proud of that Westin Chefs, Sous Chefs and Cooks – it's BIG, ha ha!
I want to call out two guys who served us tonight (and other times) to Westin management, if you happen to read this. These guys deserve accolade and reward too. Attentive to everything, polite and engaging, chatty, informative re food and other things, and to be honest just great fun and to have as part of our dining experience. Thank you so much to; Hakim and Zul for looking after us on our last night.
Here we go – seafood BBQ buffet in photo form – gives you an idea of the variety, or what!!!
How good was that folks? And this is just one of the buffets that they do every day of the week pretty much. Shit I wish I liked fish, but so glad that I also do not as I got my Cafe De Paris steak – such a memorable dish that one, I am going to try and make the butter myself and serve it up at ChillaxBBQ. It was soooooooo good, a steak dish I'll be singing about for a good long while for sure!
Next up a few video snaps 0f the speedboat ride, Amy doing blow-gun and the squirrels outside the suite first thing in the morning this morning. And after the videos a couple of shots from literally this morning as I meandered alone on the balcony, reflecting the incredible trip we had just had. So much to report on, hence doing it daily. And much more food ones to come when I can find the time guys.
So there you have it folks our Leaving Koh Lipe, & a WOW @ The Westin, Langkawi, Day #7 Kennett's Tour. Again we cannot thank The Westin, Langkawi enough. That was so so unexpected, and truly amazing for us all. After a pretty crappy trip back from Koh Lipe, that brought us all back to such a happy state. What a fantastic two-stay vacation this was. I think we will absolutely be back next June for my 50th birthday. So hope to see you all then again Westin crew and Akira Lipe crew. You made our 7 days simply the best thank you. And anyone else reading, I highly recommend, as in HIGHLY, as you will see from the 7 blogs posted of our daily experience. If you are lucky enough to get here, I am 1000% confident you will – ENJOY!!!